How to Create an Auto Detailing Business Website
In order for your detailing business to be discoverable by your target market, you will need an online presence. To get started on creating your detailing business website and online presence, first make sure you go back and read about picking the name for your detailing business. Once that is done you can begin the journey to creating your website and gaining more business.
Create an Auto Detailing Website
Detailers who have a website are much more likely to receive traffic, calls, and emails to their business. How many times do you personally search for a business or service online before you actually make calls or email around? I know for me, I do it very often.
You will need to have a professional looking website that portrays your business in the way you want. Your website needs to be available any time of the day without being disrupted or offline because you could very easily lose clients without it being up.
I recommend you create a Wordpress website that is hosted on BlueHost. You may or may not be aware but Wordpress was initially started as a blogging content management system and has grown to become one of the largest used content management systems for all types of websites.
Wordpress allows you to install a slew of themes, plugins and add-ons that can make your detailing website stand out from the rest. You can download different themes, either paid or free, to make your website unique for your detailing business.
I recommend you use Bluehost as they are one of the best hosting providers available and have a one-click wordpress setup that can take you less than 5 minutes to get your website started. You can also register your domain name for free when you sign up for Bluehost, but if you already purchased your domain name, you can easily transfer it to your new website.
Step 1 - Go to Bluehost
To walk you through the steps to creating your detailing business website on bluehost and wordpress, first go to bluehost This link is an affiliate link so I do get a commision when you go through it and I appreciate you helping me by doing so. Once you are on bluehost, click get started now button.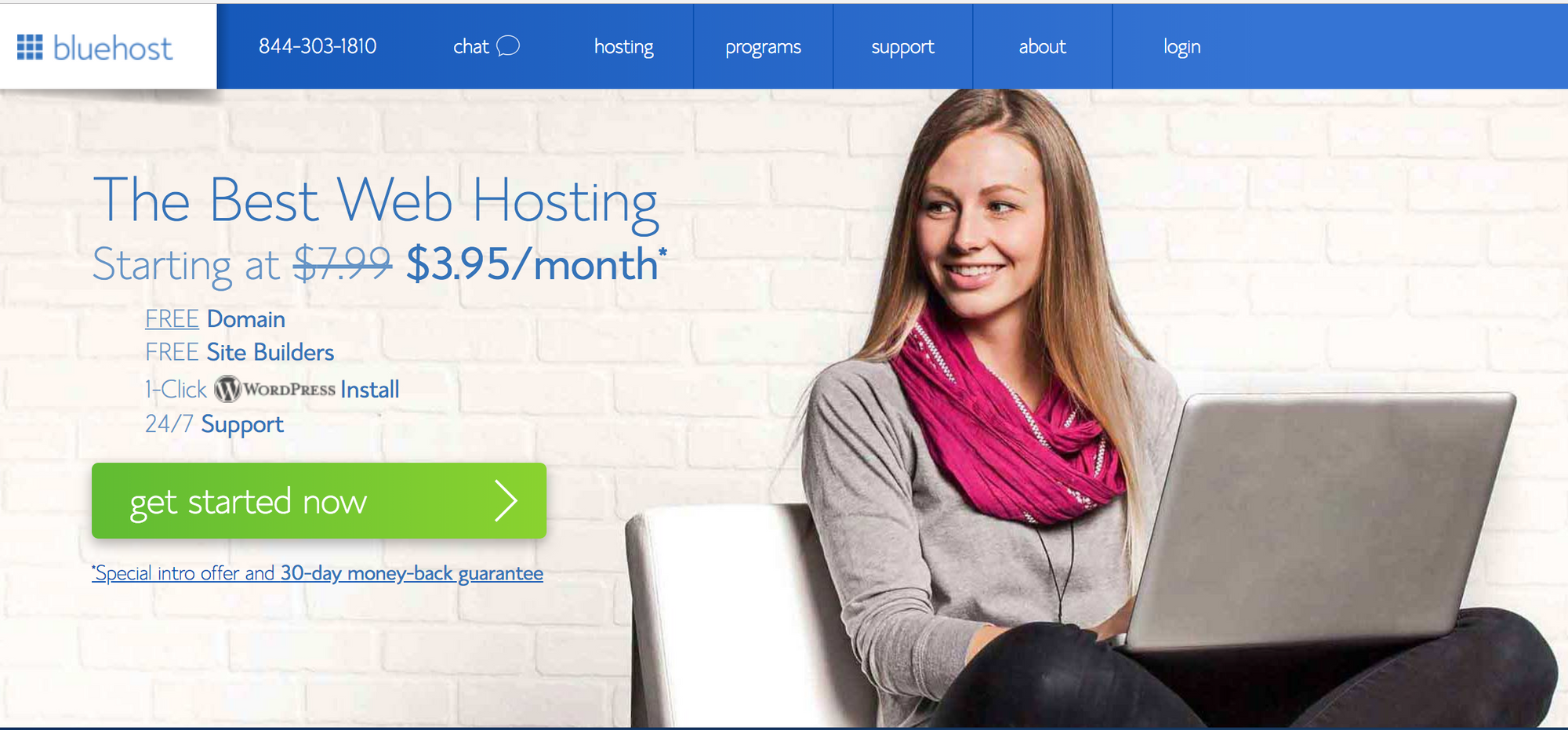 Step 2 - Pick a Plan
Next select your plan, I would recommend you start with the basic plan initially until you find a need to upgrade to the plus. Since you are only going to create one website, the basic is what you will most likely want.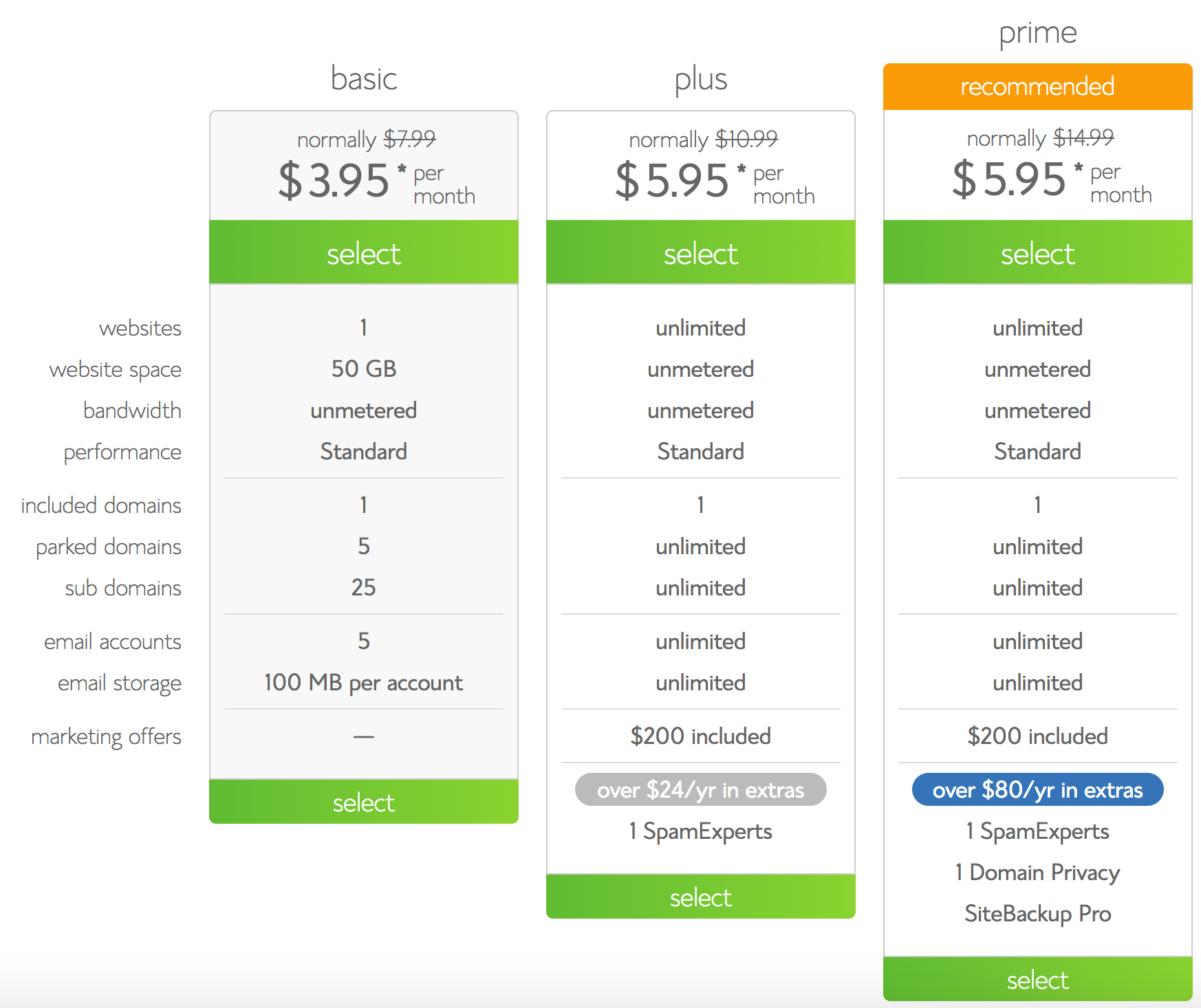 Step 3 - Choose a Domain
Once you click "select" on your plan this is where you can enter your new free domain name to register or if you already purchased it elsewhere you can enter your existing domain. If entering a new name, Bluehost will also verify if the domain name you want to use is available to register.
If you haven't already determined your business name, check out how to name your auto detailing business.
Step 4 - Create your Bluehost Account
On the next page fill out your information for your name, email, etc. and then choose any additional options you want.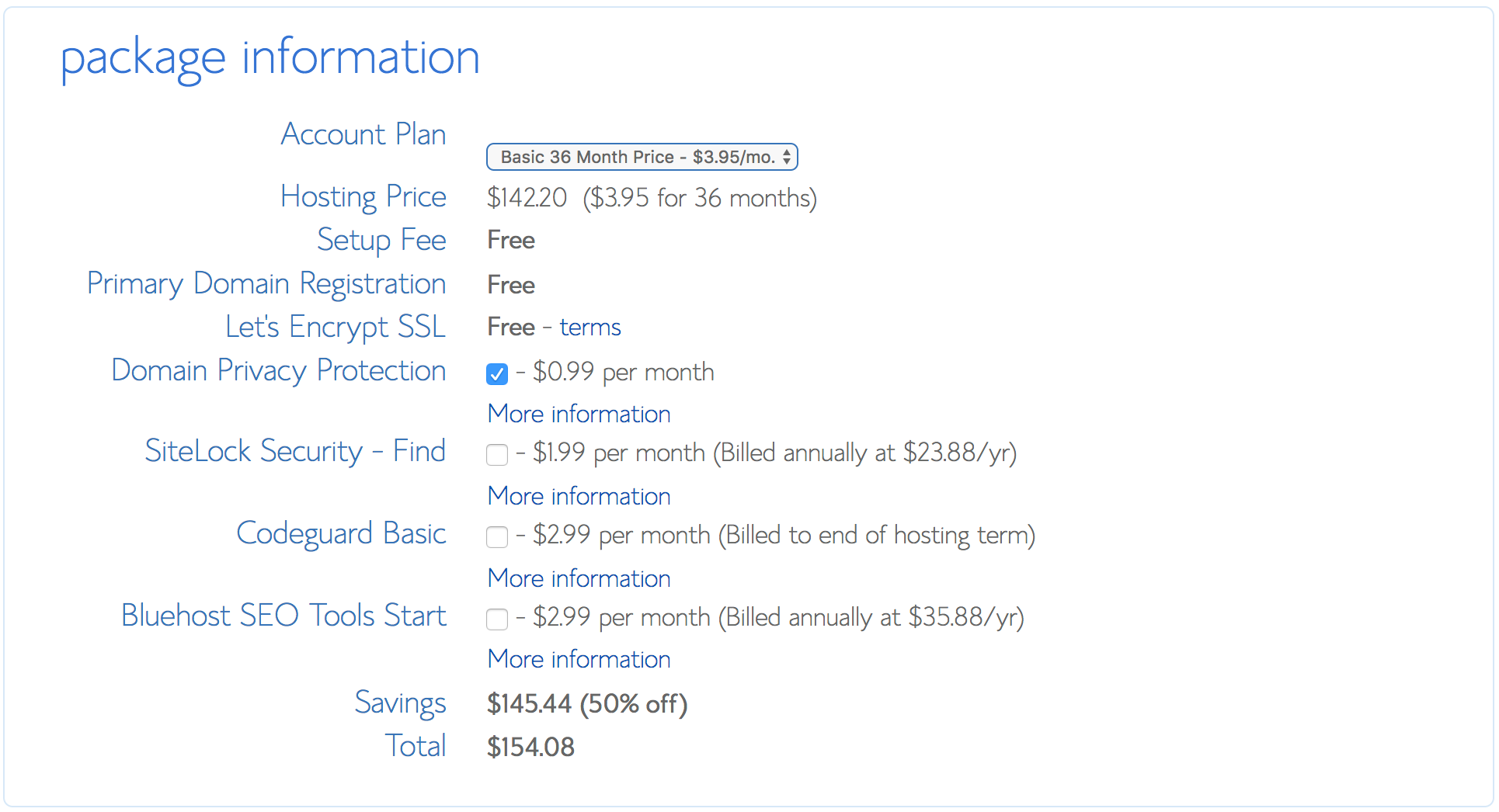 There are additional options that you can select, here is some more information on each of them.
Domain Privacy if you do not want people to know who you are when your domain is registered. I would suggest you get this so you do not have to be concerned about junk email or mail.
SiteLock Security is supposed to scan your website and if there are vulnerabilities you will be notified. I have read things about this company that would deter me from signing up for this service. You can install Wordpress security plugins to protect yourself, sometimes for free.
Codeguard Basic is for backing up your website in case you need to restore or go back to an older version. You can easily do this yourself and there are Wordpress plugins available as well.
Bluehost SEO Tools is a starter to Search Engine Optimization (SEO) but I would not pick this service either since I am familiar with SEO and what needs to be done on my website for it. There are plugins available to help with SEO.
Step 5 - Launch a Wordpress detailing Website with Bluehost
Now you can launch your WordPress website, simply login to you console with your account information and get started. You can select your theme you want to use and add different plugins.
If you are just starting out with WordPress I suggest you check out this tutorial from bluehost which will help you with the basics. Next you can select a theme and start customizing your website.
Themes and Content
Now that you have your website created and configured you can add your content for your detailing business and make it look like you want to. If you are looking for professional themes check out Theme Forest Full disclosure, this is an affiliate link and I get a commission at no extra cost to you, I appreciate you helping me out by using this link. I would suggest you browse around for a theme that you like that will match your business and your market.
I personally like the Avada theme design called electrician, the layout and format of it works nicely for detailing websites as well. You can have your services and packages in the top drop-down. Your work can be featured with high quality pictures with before and after pictures. Avada is one of the top themes of all time, you can purchase the package here which will give you access to 40+ templates and 250+ web designs.


(https://avada.theme-fusion.com/electrician/)
If you are looking for a good free theme, the businessx theme works well, this detailing website uses it so you can use it for reference.


Set up your business email Google Workspace account
Next you need to create a business email, it will be easier for you to make sure you keep everything related to your detailing business separate from personal. If you want a quick option you can use the Google Workspace (formally GSuite) for $6 a month per user, if you are just starting out this is a great option and will allow you to have Jack@JacksDetailingServices.com redirect to your Google Workspace Gmail account. This is more professional than having JacksDetailingServices@gmail.com, which is a viable option as well for those who want to keep expenses low.
You can also track your expenses, save your business plan, etc. in your Google drive business account. If you are not already familiar with Google Drive you will definitely want to be. You can store all of your documents and access it anywhere so you can update your expenses and costs on the go.
To get started head over to Google G Suite and click the Get Started button.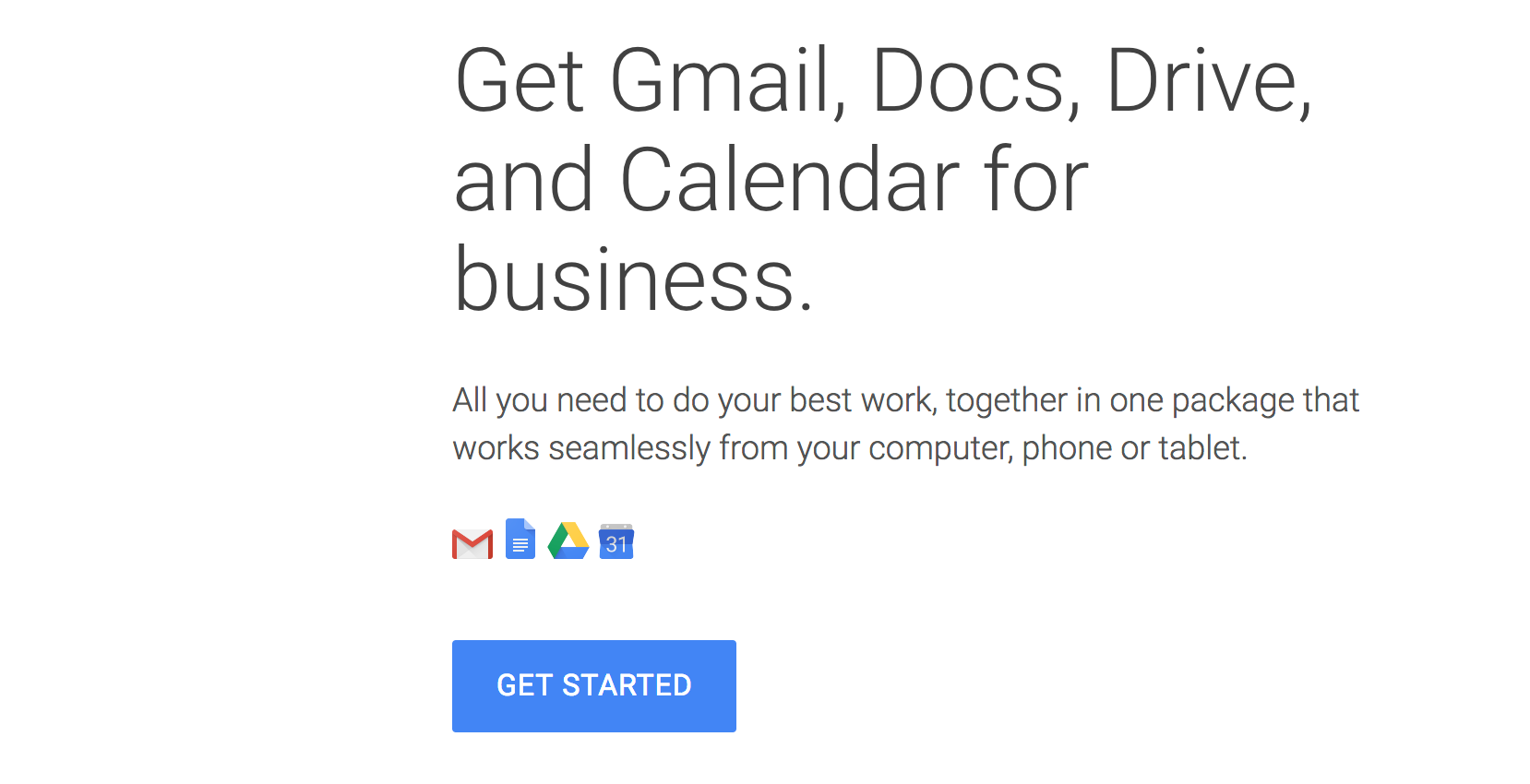 Next fill out your business name and how many employees you have, you can always add more later if you need to.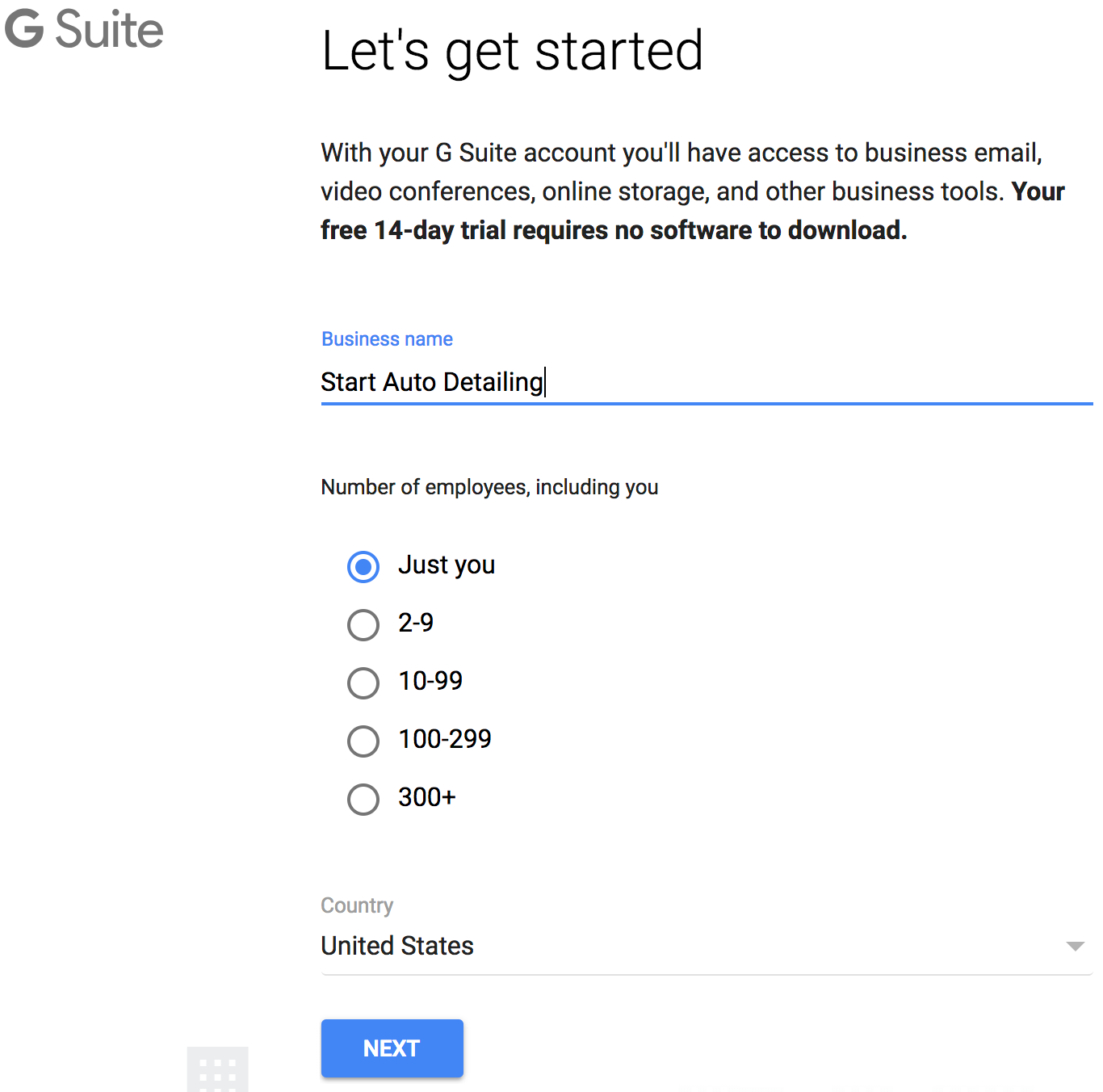 Next fill in your contact information.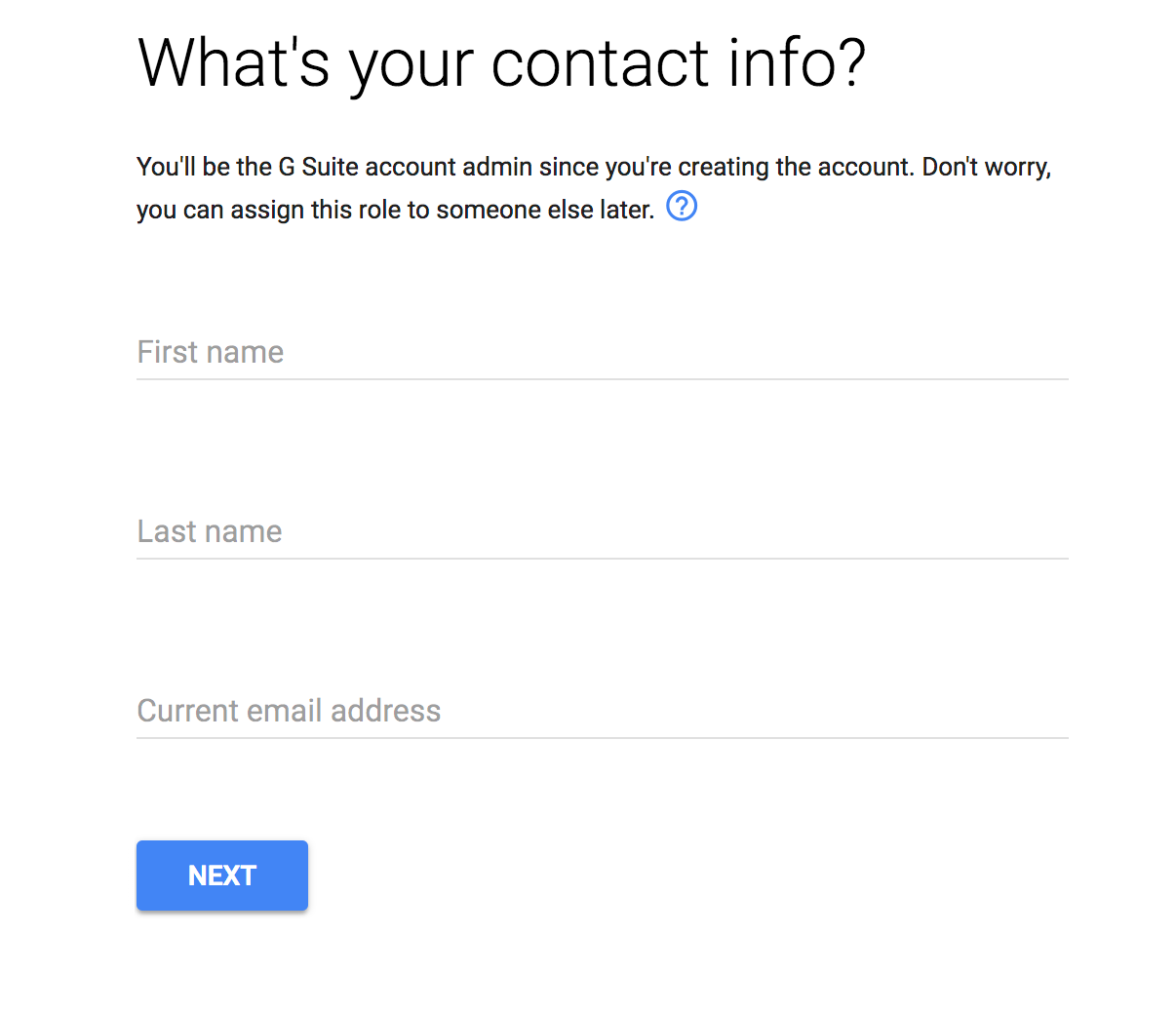 Next select that you already have a domain that you can use, this is the one that you created earlier when setting up your website.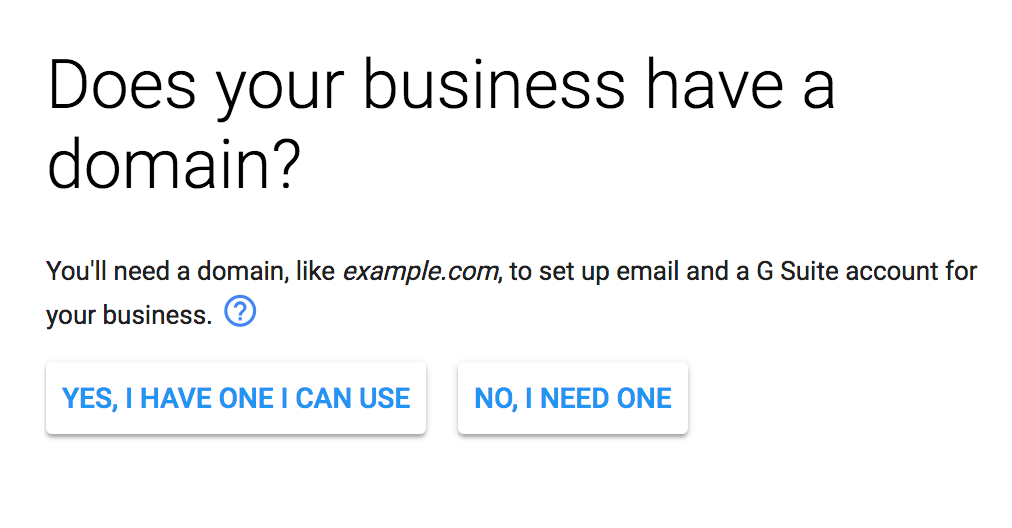 Enter your domain address for your website and the next step is to confirm that it is correct. Be sure that you have everything typed properly.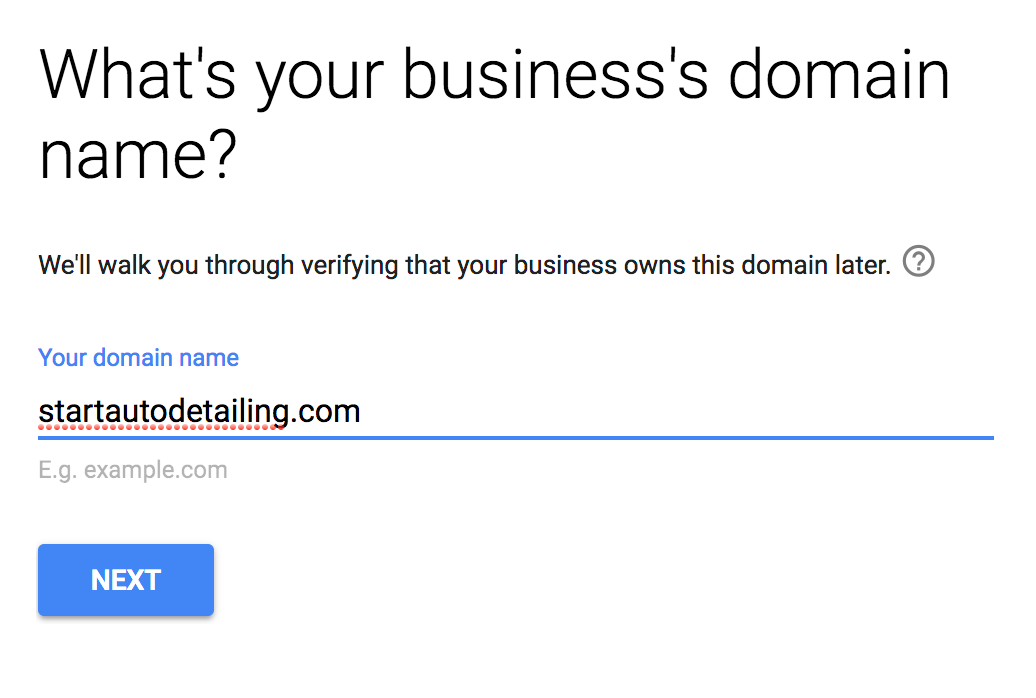 Lastly create your sign-in information and read the terms and conditions. Your sign-in will not be your personal email address that you may already have, instead you will enter Jack, or whatever your name is, and it will append your website address to it for you.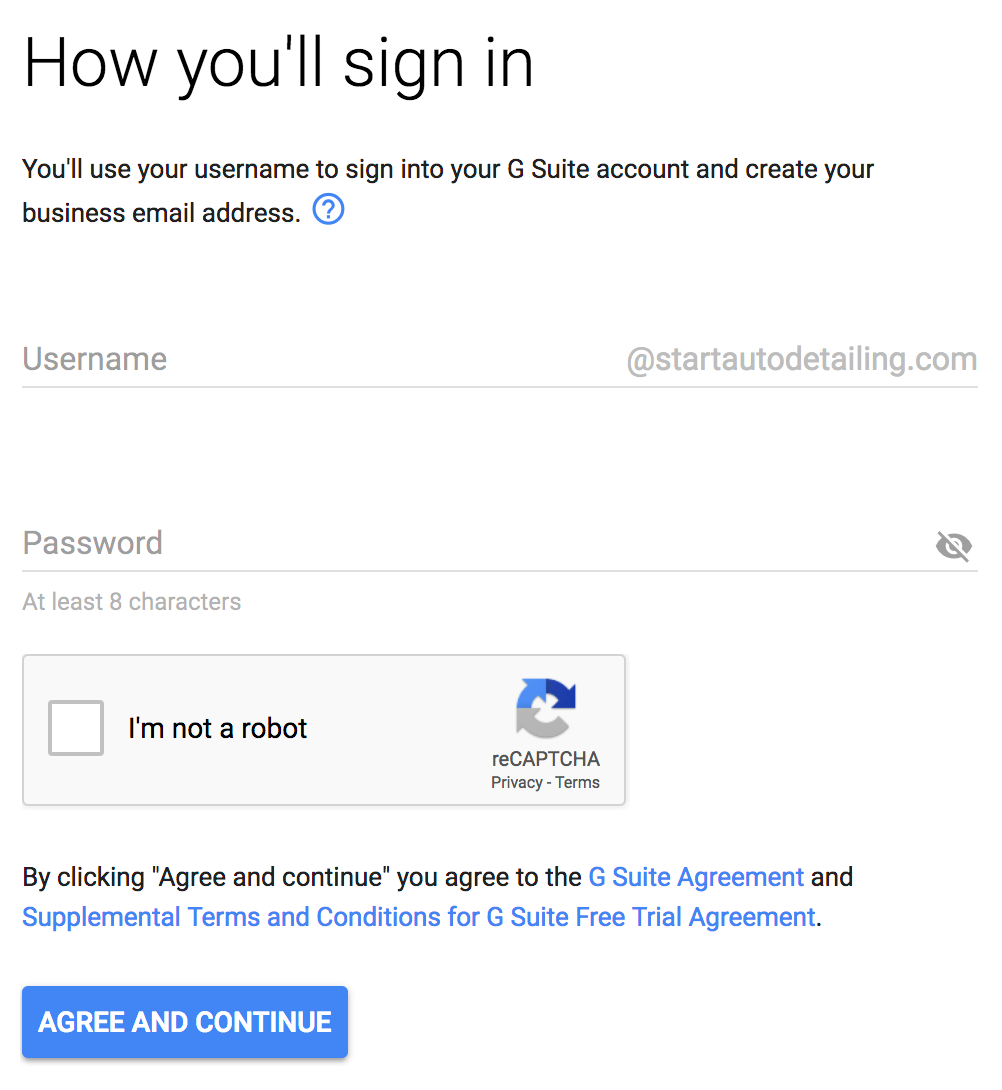 Once your account is created you can login to your admin console and update your domain to forward your email properly. You can contact the Google customer support to walk you through this. If you are technically savvy you can do it yourself by following the instructions laid out on the G Suite setup documentation on verifying your domain.
Now you can start managing your G Suite business account and taking advantage of the Google Drive functionality.
Get a Detailing Business on Google Places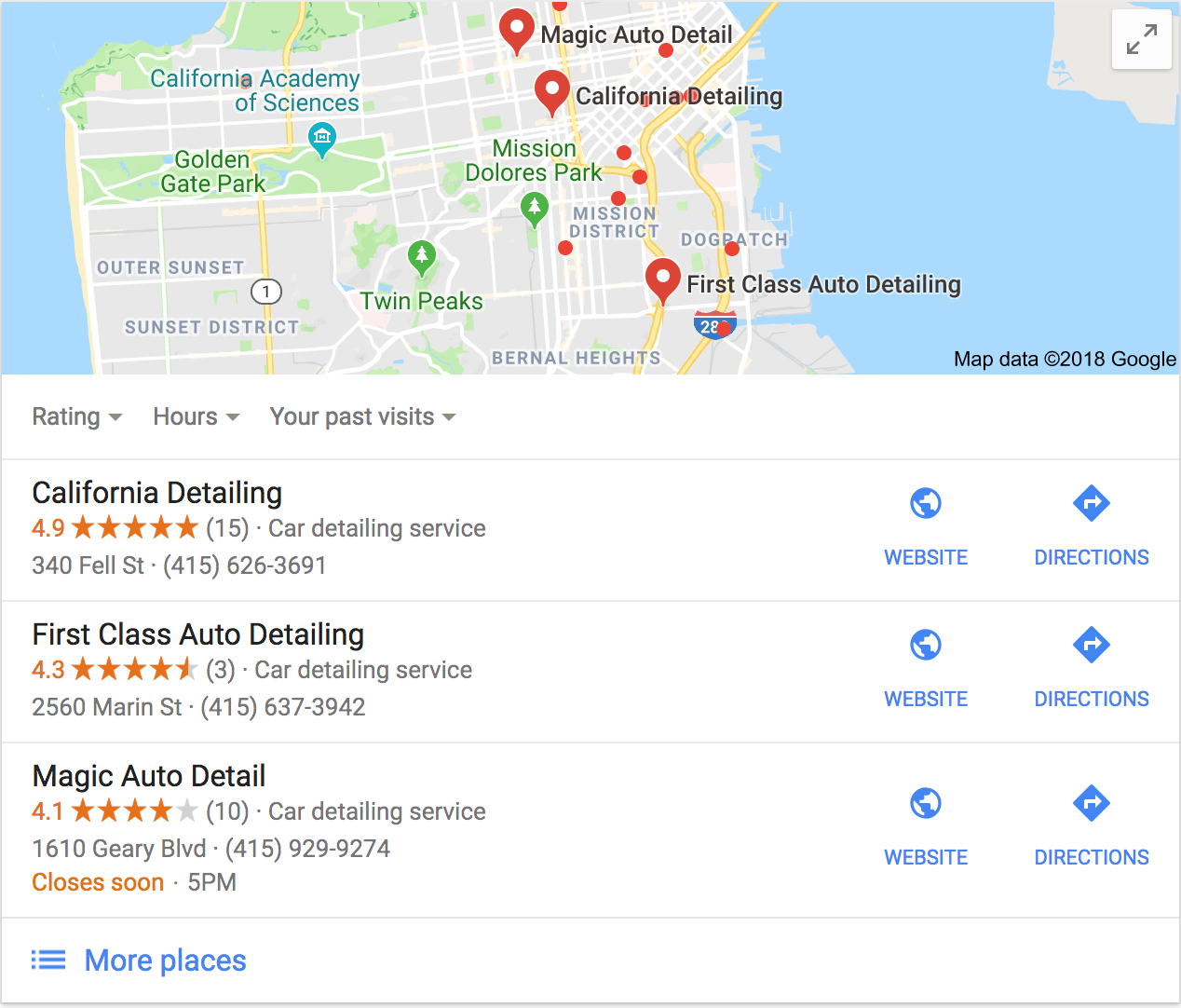 Once you have your website set up and running, you want to get your business on Google Places. This is what will show when a potential customer will search for "Auto Detailing near San Diego" and the map shows up with the list of places.
First visit Google My Business and get started. You should fill out as much information as you possibly can. This will help your business to rank higher in your market. When you are signing up, the category to select is "Car Detailing Service". Make sure to provide both your website domain and your phone number.
You should definitely check out the guide on how to improve your ranking for google business listings from Moz.
Once you have your Google business created and setup, do not forget to revisit your listing for any questions that customers might have asked and respond to any ratings, both positive and negative. You want to let potential customers know that you are engaged and interested to hear feedback in order to improve your business.
Once you finish with a client, you can always politely ask that they will leave a rating and review for you. You may not offer a bribe in return for a review! This is a big no-no and you can get penalized.
Now that you have your business up on Google places with ratings and SEO optimization you should begin seeing traffic and getting more clients!
Set Up a Detailing Business Facebook Page
Next you need to setup a facebook business page. Facebook will bring you a lot of traffic if you can get people to follow and rate it. Most consumers use ratings and reviews when doing their initial research on any business they want to work with.
A large percentage of your market is most likely on Facebook, if Jane reviews your business, her network can see that and next time Susan needs detailing services, Susan will remember Jane's review.
To create your detailing business Facebook page, sign into your existing Facebook account. Visit Facebook business and click the "Create a Page" button.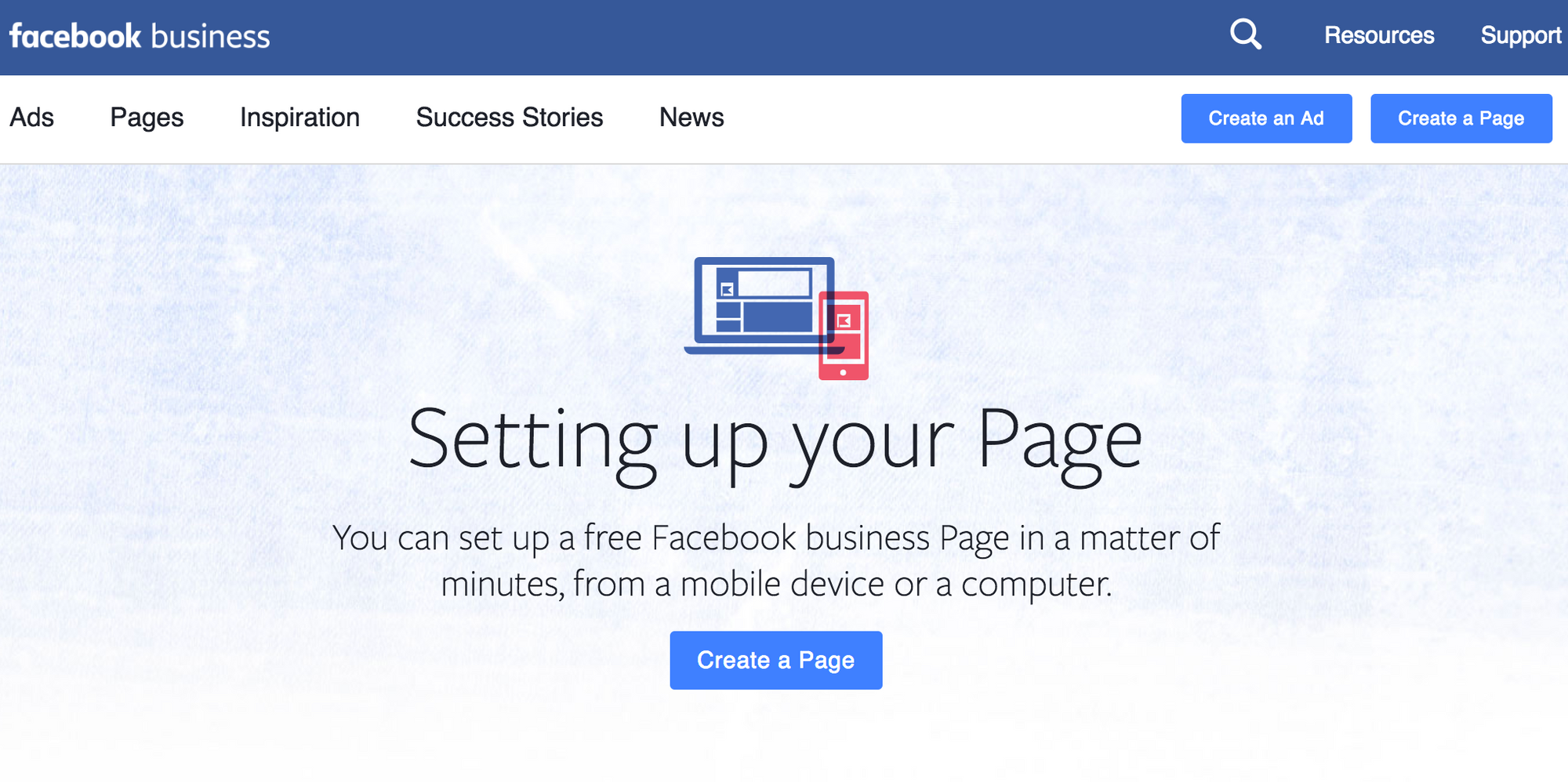 Next select "Get Started" under business or brand.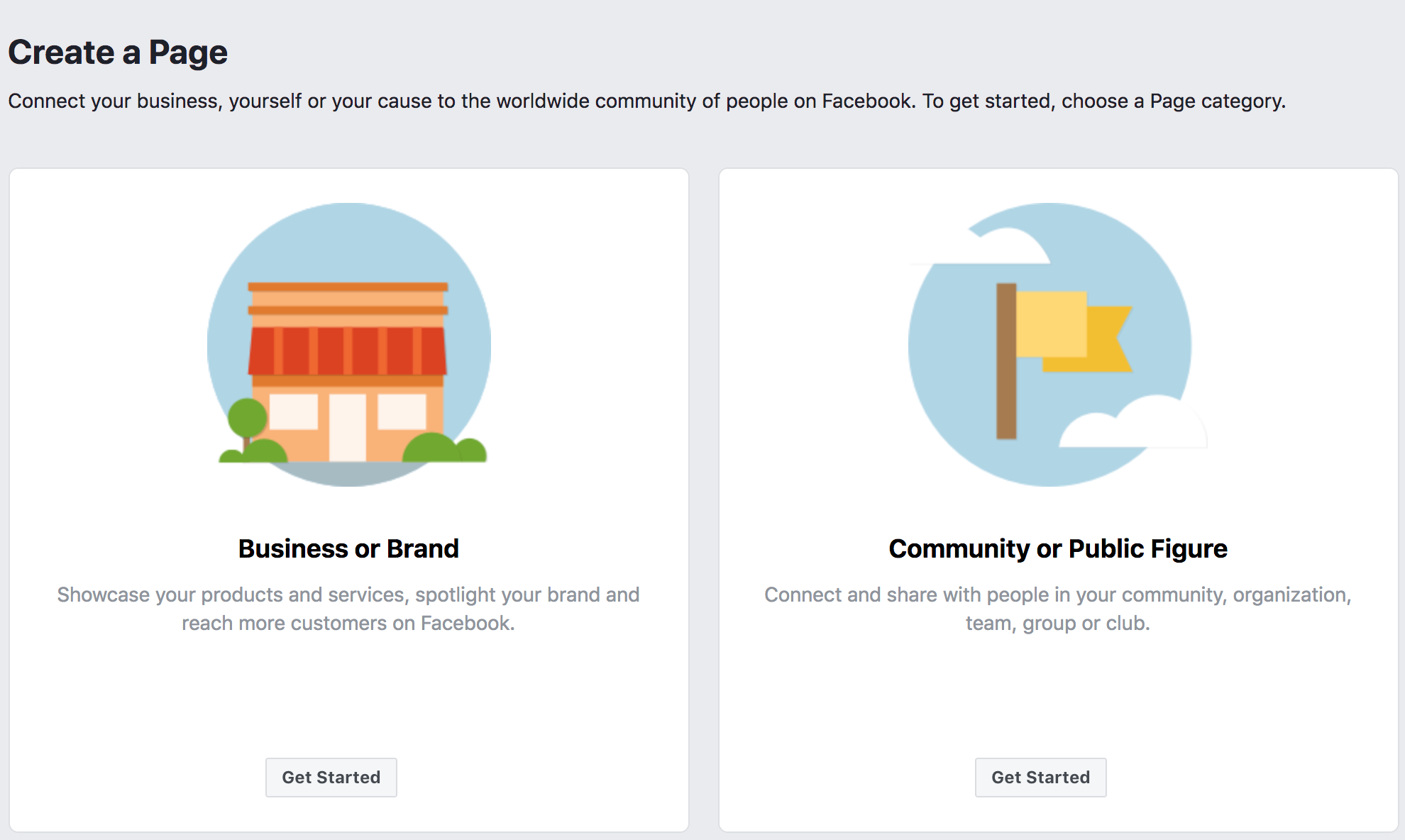 The category will be Auto Detailing Service, once you create the page you can add Car Wash and Automotive, Aircraft & Boat.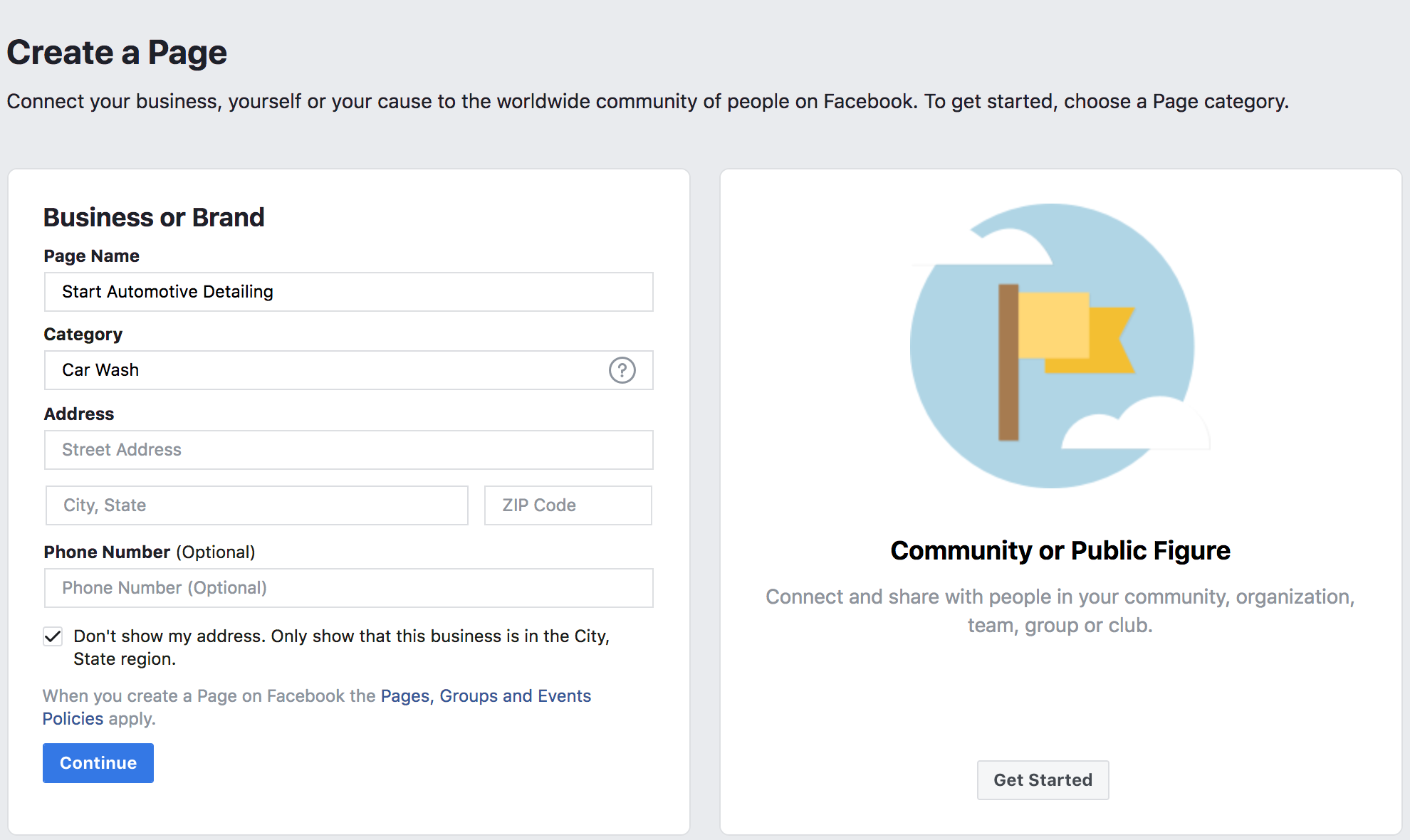 Next you can upload your logo and your splash images. Make sure you have something different for your splash image rather than your logo again, it helps you to stand out. You can add an image of a car you detailed.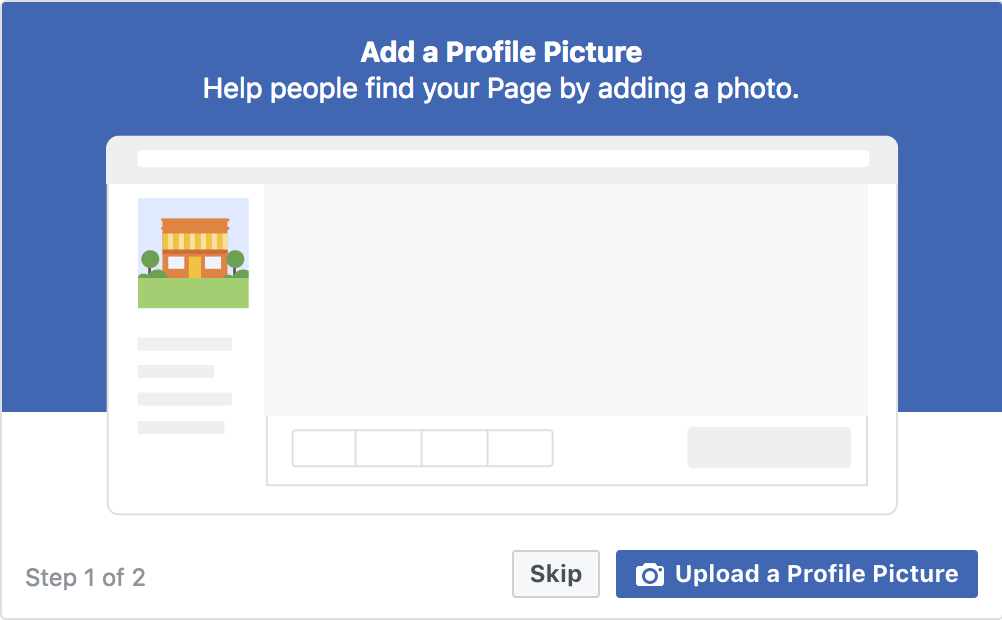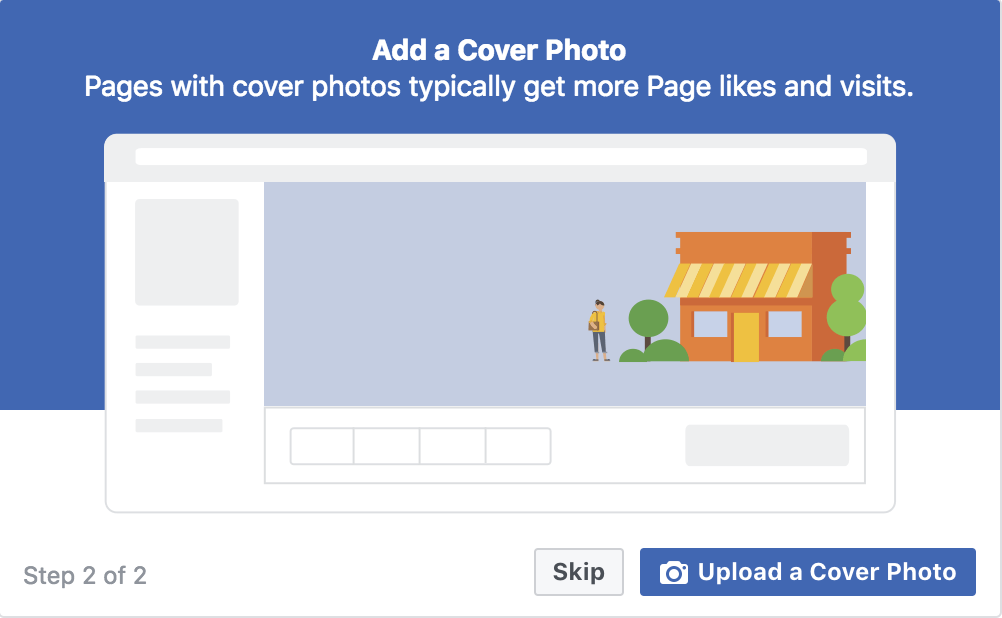 Next your page will be created, you will see some messages from Facebook to guide you through the rest of your setup. You can do each of those to finish it out, I would suggest you click the three dots to expose the drop down and edit your page info.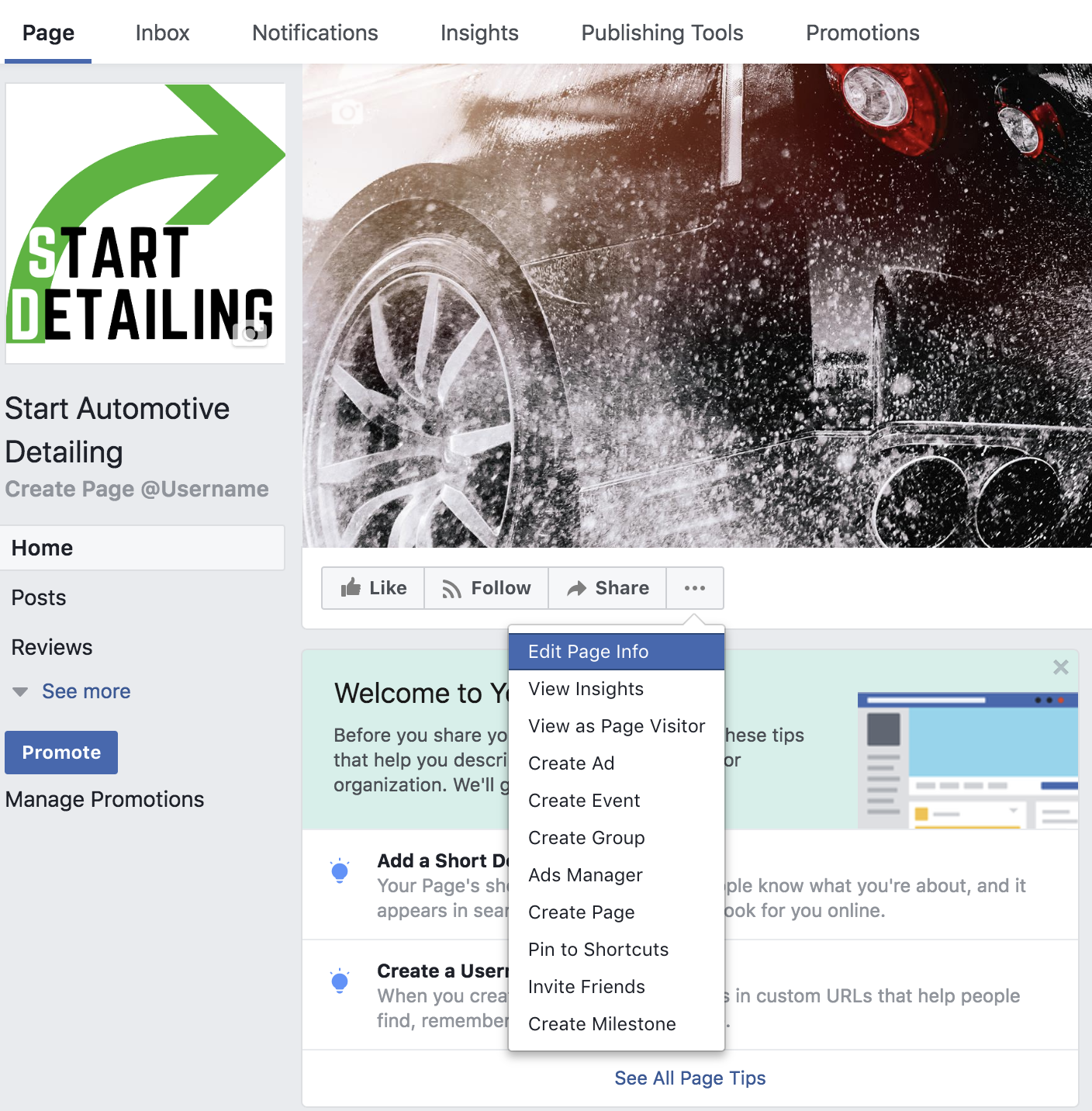 Here you can add your additional categories, add your website, email address, phone number, and any other information you would like to add. Be sure to have a clear description that outlines what your business offers and the areas you service. Make it clear if you are a mobile detailing service that will travel to different locations or if you have a fixed location.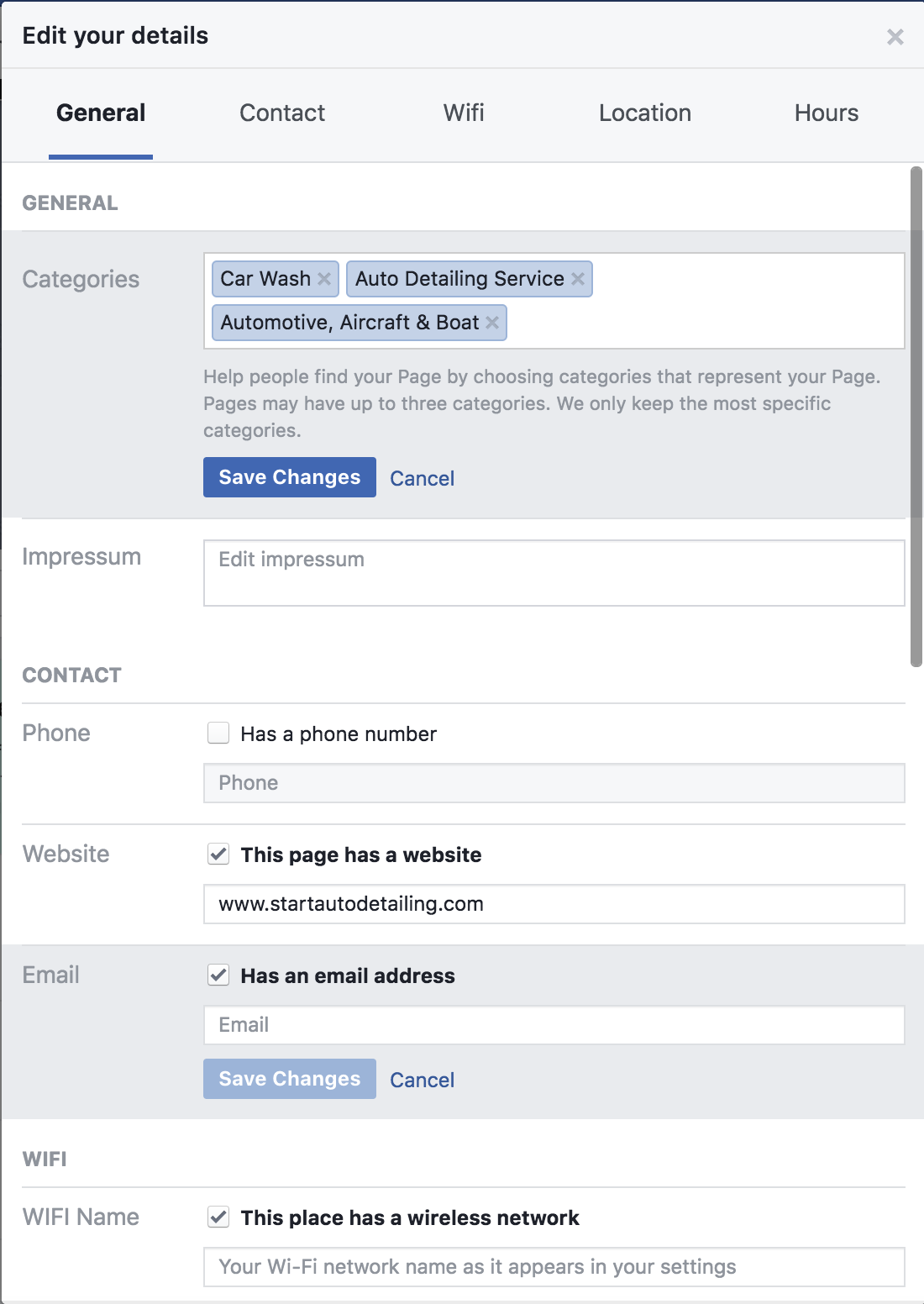 Once you have your Facebook page created go ahead and share it with your existing clients and ask them to leave you a rating and review and follow your page. Also be sure to link to it in your website and other platforms.
Conclusion
We walked through a lot on this post, don't feel like all of this needs to be done in a single sitting or single day, I would start in the order I went through and each day do the next step in the process.
Now that you have a detailing website created, a Google G Suite account created, a Google Places listing and a Facebook business page created make sure you keep up with each of these. Be sure to take very good before and after pictures so you can share them on all of these channels, don't forget to continue updating and posting new pictures as you grow.
Potential clients like to see the type of work you can do, especially if you can show before and after pictures tailored to your market, this will help get more calls.
When someone calls your business number, at the end of your conversation with them, ask them how they heard about you. This way you can keep track of which of your marketing techniques or online channels is working for your business and your market. You can keep track of this using your G Suite Google Drive account and have a spreadsheet where you can track this.
Leave a comment below and share your website and what you used to create it to help others who are just starting out and need some great examples! Keep serving, learning and growing.
If you are having trouble creating your website or need more coaching and guidance I also provide professional detailing website services, you can contact me below if you would like to hear more.