How to Name an Auto Detailing Business
So you started to detail your family, friends, and neighbor's cars and decide you want to make yourself a business out of this. You need to come up with a name for your professional auto detailing business, you may ask, "I need to come up with a catchy and clever name in order to stand out from the competition right?", wrong. Your business name needs to describe what you do and not match anyone else's in your county, geographic area, state, or even your country. Let's dig in a little deeper.
Your business name is what your customers will use to identify you to their friends and family. Unless you give them a business card that they keep with them at all times, you will want a name that
Is easy to remember, spell, and write
Describes what what you do for your customers
Has the domain name available
Can easily be found in an online search
Is available to register with your state
Let's dive into each with some more detail and ideas.
Name That is Easy to Remember, Spell, and Write
You want your auto detailing business name easy to remember, the best way to ensure this is for it to match your personal name. If you introduce yourself and your name is also in your business name then your customers will have a better chance of remembering.
For instance, if your name is Jack, you could go with "Jack's Detailing Service". This is a straightforward example that is easy to remember and spell. Now if your first name is more complicated or could have multiple spellings, you may want to try and get more creative, maybe your last name is better.
Your detailing business name should be easy to spell and write. This will make it easier if you need to tell someone your business name over the phone or if a client is sharing your information to a friend. You do not want to make it difficult for clients to share your business with their friends and family or it might stop them from doing so.
Name That Describes What You Do For Your Customers
Your detailing business name needs to be instantly obvious to your target customer, confusing business names will turn potential customers away. In the previous example we have "Jack's Detailing Service", if you notice it does not limit to automotive detailing just in case your business grows to do RVs, boats, or airplanes.
That doesn't mean you can't put something related to cars in your business name because you can always grow to the other markets and still be very successful. The next sections are more crucial to bringing in new customers.
Name That Has the Domain Name Available
Having an online presence in today's world is very important, word of mouth will grow your business but you also want to market to an even wider audience online. Having your domain name matching your business makes it even easier for your customers to remember and find.
You can check if a domain is available by checking out the Google Domains free checker. It will also give you suggestions on other potential names to pick from.
If the exact domain name isn't available you can check if the .net or .org is available. Be careful here though because if the .com is already taken then there is a good chance that the name you chose is already taken and registered. See the section further below on checking if your business is available to register.
Name That Can Easily Be Found In An Online Search

This goes hand in hand with your domain name matching your company name. Your clients and friends clients will need to be able to find you online. It will be easier for your clients to tell their friends "Just search 'Jack's Detailing Service', it's the first result on Google," since some clients don't save your phone number in their phone, but instead communicate to you solely through email or Facebook chat.
There is a lot to getting your website to the top of the search results page but having a quality site with easy to read details is a great start. This step is crucial, without an online presence you will miss out on a lot of potential clients. If you need help on building your website I offer services to do so, you can reach out and contact me directly. You can also read more about setting up your online presence and see sample auto detailers websites.
Tip: Google Places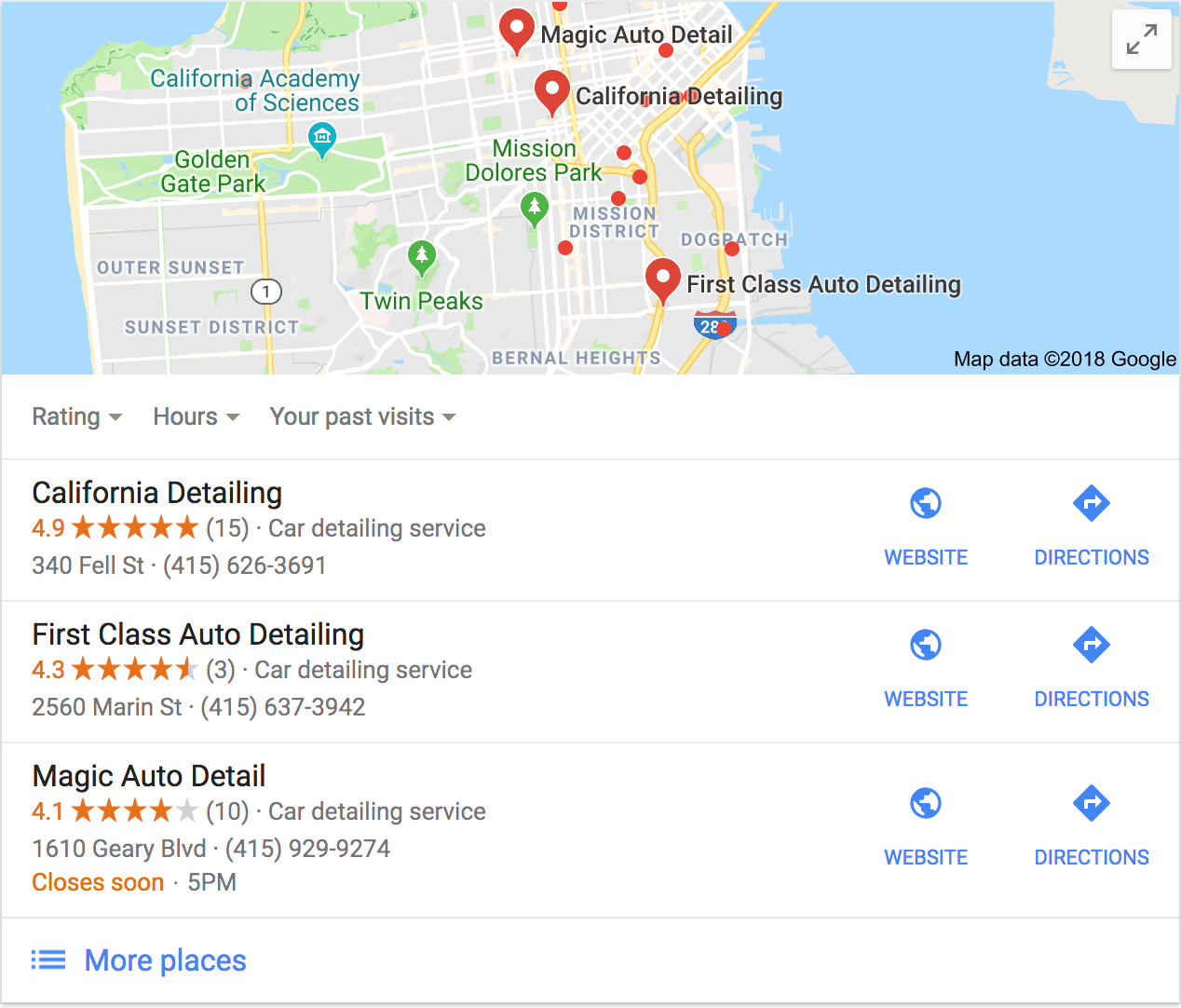 Once you choose your name and have your site up and running the next step is to register your auto detailing business in Google Places. This will allow your business to show up in the list of places if your customer searches for "Auto detailing in San Francisco" in Google. In order to get your site registered you should check out how to setup your auto detailing business online presence.
In order to be successful with people clicking on your business in Google places you will need reviews. You should ask each customer if they would leave you a review. Be aware that you may not offer a discount or coupon if they leave a review for you, this is against the terms and conditions for Google and not very ethical.
All you need to do it ask each of your customers to leave a review and tell them you would really appreciate the honesty so you can improve your business. These ratings and reviews will help bring in traffic, without them you are potentially losing business to your competition.
Name is Legally Available to Register
Once you go through these steps you will need to make sure your business name isn't already taken by someone else. You don't want to have a conflict in this area so make sure you do not skip it.
If your business name is taken by someone else you won't be able to register your business with your state or county. If your business name is very closely related to another it will be hard to be found by your potential customers. You will need to go to your states business website and do a search under the secretary of state database. This should come up with a business if you share a name.
You can also check the trademark registration database for your state to see if there have been any submitted for your chosen name.
Before you print out any business cards, print t-shirts, buy your domain, create your google place, or anything branded with your chosen name you must verify it is even available for you to use.
Conclusion
In order for your automotive detailing business name to stand out and be discoverable by your market you will have to follow the criteria we went over. Your business name must:
Be easy to remember, spell, and write
Describe what what you do for your customers
Have the domain name available
Be easily found in an online search
Be available to register with your state
Now you should have your name picked out and you should begin to register your name with your state and county. Be sure to check out some of the other resources I mentioned to get your online presence setup for your auto detailing business.
Keep serving, learning and growing.