How to Start an Auto Detailing Business: Ultimate Guide for 2023

Starting an auto detailing business is actually more reasonable to do than most people may think. The startup costs and initial time investment is reasonable and in reach for most people. You may not even be a "detailer" at heart, and that is okay, you don't need to already know how to detail cars yet, you just need to have the passion and drive to run a successful business.
If you are looking on how to start an auto detailing business in 2021, then this guide is for you. We will walk through each step and provide you with everything you need to get started today.
Some of the links in this article are affiliate links, that means that if you purchase a product through the link, I get a small commission. This really helps this site and helps keep the lights on at home, I appreciate your support!
Have the Correct Mindset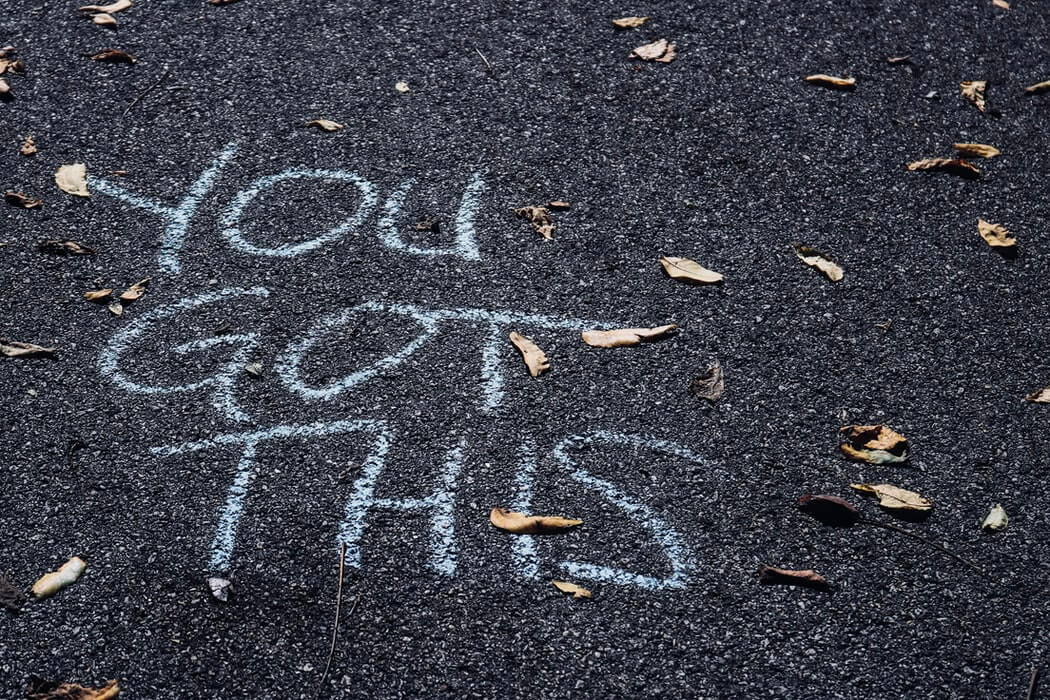 Not everyone is an entrepreneur, but there are business owners who are still very successful who were not "born entrepreneurs". You will see stories of successful business owners who grew up trying to make businesses, make money by selling services or products, etc. but that isn't the case for everyone, and that is okay if you were not like that growing up.
You don't need to have a perfect business mindset or a grand plan in place when starting your auto detailing business. You just need the drive and ambition to do something great for your customers, for you, and for your family.
Keep in mind, starting a business is serious work and not for everyone, if you don't plan on working hard and investing your time to learn and grow, then you may want to look into other ways to make a living.
You also need to determine when you are willing to detail cars, if you are starting out with this full-time then you can work whatever hours you want (or your family is okay with). If you are doing this on the side when initially starting out and keeping another full-time job, then you need to think about:
You could work weeknights, which may work for some customers and not others. You also potentially lose out on using natural light to see, so you will need extra lights in order to work.
You could work weekends, which may work better and cut into part of the market your competition does not service because they may only work weekdays 8-5.
Do you have a spouse and/or kids? You will be sacrificing time away from them. This all boils down to personal situations and what you and your family is willing to do in order to run your business. You may be following Dave Ramsey's plan to get out of debt and know that this is temporary in order to reach your future goals.
In order to run a successful auto detailing business, you need:
A passion for serving people
To be physically able to detail an entire car - sometimes multiple a day
To be aware of the competition and your local market
To have the skills needed to detail a car, a van, a truck, etc.
Have the right products and tools to perform your services
Patience - success does not happen overnight
A great work ethic - without this you will not last long in this industry
To be able to sell yourself and your services
Being Physically Fit as an Auto Detailer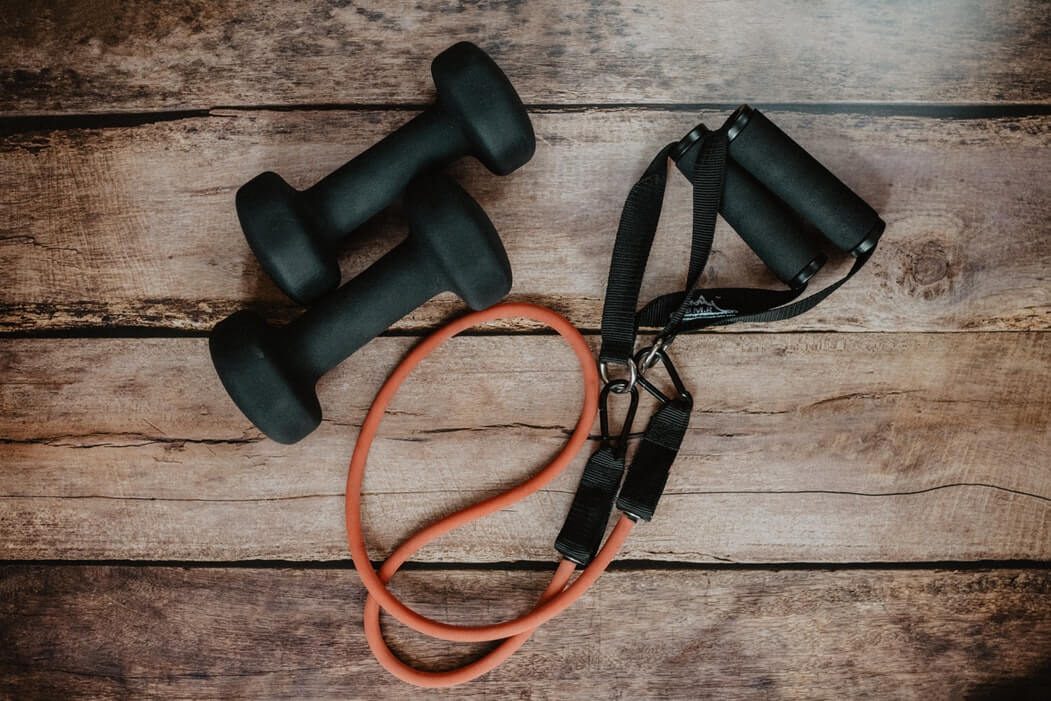 In order to be an auto detailer, you need to be fit enough to do this job. You don't need to be a gym rat, but you need to make sure you are healthy and able to move in all sorts of ways to reach specific areas of exteriors and interiors.
If you are not able to climb up into 4x4 trucks or crawl into the floorboard of a Corvette, then you will find it hard as a detailer to continue this for an extended period. Don't let it completely discourage you, if you are passionate about detailing, then you can use this as an excuse to get into shape and become healthy.
How old should you be in order to be an auto detailer? There is no specific age, there are young 18-30 year olds, but there are also a lot of very successful 40, 50 and even 60 year olds still detailing today. As long are you are able to perform the service that your customer expects in a timely manner, then you can do this.
Keep in mind, you may be working outdoors in potentially sweltering heat or frigid cold which will make detailing more difficult. If you plan to have a fixed location, then you won't have to worry as much about the elements.
Performing Local Market Research for Auto Detailing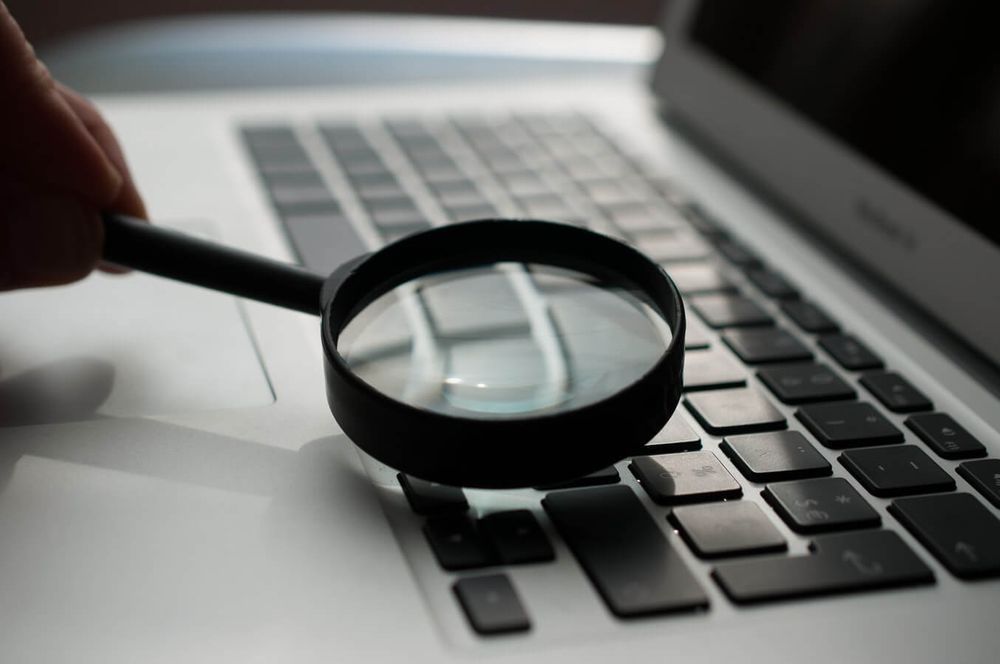 Researching your local market is vital in order to determine the feasibility and the reality of how well your detailing business can do where you live.
As a detailing business, I recommend you start out as a mobile detailer to reduce the startup costs and your recurring costs. You can also detail out of your residence, a lot of successful detailers start out this way and continue to because it works so well. Be sure to check your local regulations on doing this out of your home.
If you do go mobile and travel to your customers, make sure you take into account the extra expenses this may incur like:
Gas
Wear and tear on your car/van/truck
You may need to upgrade your vehicle for enough room for your equipment or get a trailer.
Additional mobile detailing tools, but most of these you actually will need regardless if you are mobile.
To research your local market, first you need to decide how far you are willing to drive to service your customers. Once you determine that, you can go to Google and search for "auto detailer in city, state" or "auto detailer near me".
Create a google doc or excel sheet and go through each of your competitors and list out
Areas serviced
Packages offered (Interior, exterior, ceramic coating, dent-less repair, etc.)
Pricing
Fixed location / mobile
Up to date website? (correct hours listed, phone number is correct,
Good customer experience on the website?
Do they have a Google my business page?
When are they open? weekdays 8-5 or nights/weekends?
How long have they been in business? (if you can tell or it is mentioned on the about page)
Website link (for future reference)
Once you list out all of the detailers in your area, give each of them a call acting like a customer, see how they respond to your questions, are they booked out way in advance? Are they professional sounding?
See where there are gaps in your market, are all the detailers offering only cheap services? Maybe you can take on the higher-end clients in your area. Are there only high-end detailers? Minivans are still profitable and make money as a detailer.
If your spreadsheet is filled with 60 detailers in your local area, you may not be able to carve out enough of that to keep a constant flow of customers. If you are able to find a specific niche in your area then you will have an advantage.
Make sure you also research your local communities' average salary and home value. This will give you an idea on dispensable income available for potential clients. You may have to broaden your service radius to meet the needs of other nearby communities as well.
How much does a professional auto detailer make?
According to salary.com, the national average salaray for an auto detailer is just over $49,000 per year, or according to SimplyHired.com, an auto detailer makes  $69,500 per year. This number can vary drastically based on where you live. If you are on the west cost in California, the money you make will be more than if you are Kansas.
The best way to make more money as a detailer is to not remain in the simple wash and wax jobs, but to work into perfecting your hirer tiered offerings and moving all your marketing and customers to those types of jobs. We will walk through the packages and pricing a few sections below.
Honestly it all depends on how well you start your business and how well you are able to maintain a constant flow of maintenance customers. Once you have your "guaranteed" salary from your maintenance customers, you can market and push for new customers to join your maintenance program.
There are some auto detailers who are making easily over $100,000 a year with a shop and a team working for them, if you want to move that way in the future you can!
Which Skills are Needed for your Detailing Business
As an auto detailer, you need to have the skills to actually perform the work. If you have never detailed a car before, then you will definitely need to practice on your own car and family/friends cars before you can confidently dive into detailing customers cars.
You also need to know how to use chemicals properly, with the recommended manufacturer dilution ratios. For example, an All Purpose Cleaner (commonly referenced as APC) is used in a multitude of scenarios, it is just specifically diluted for that purpose. You will have on spray bottle diluted with 10 parts water and 1 part APC for interior or 4 parts water and 1 part APC for engines/rims. I like the Mckee's 37 Hi-Intensity APC Plus personally.
As an auto detailer, you will need to be comfortable with power tools. You may use an air compressor, pressure washer, generator, drill, Dual action polisher (DA Polisher), Rotary buffer, etc. You will need to know how to use these carefully so you do not damage your customers car.
I recommend that you practice with these tools to be well-versed in using them before jumping in on customers cars. Starting out, I would definitely recommend that you get a Dual Action Polisher like we discussed in how to start your auto detailing business with just $500.
You will need to learn how to extract and steam an interior to get a (close to) flawless finish. You will need to know how to use your dual action polisher to correct the paint. You will need to know the difference between paint correction and paint protection.
Take the time to practice these skills, it will pay off in the long run if you start out your business by knowing what you are doing. You will hopefully get good online reviews from your first few clients to kick-start your auto detailing business.
You do not need to get professional certification or training to start your auto detailing business! I see detailers do this all the time where they will go out and spend thousands on a certification or training before even trying to detail cars first. You can go out and get those trainings, sure, but there are plenty of great detailers who found that they never needed those certifications or trainings because they were still serving their customers and doing a fantastic job growing their business without them.
You will also need "people skills", you will need to communicate with customers and potential customers. This doesn't mean you need to be the most talkative person in your neighborhood, but you do need to communicate effectively to sell yourself and your business to those around you.
Recommended Products for your Detailing Business
As an auto detailer, you will need to have the right products to solve the problems that you customer has with their car. As we mentioned above, the post on starting with just $500 walks through the bare minimum needed to start your business.
Also be sure to check out the article on the tools needed to be a mobile auto detailer, we go into further detail on all the tools you will need in that article.
At a high level, the products will need:
Mode of transportation (if mobile)
A residence with a covered/shaded area (if working out of your home or fixed location)
Hoses and spray nossels
A generator (maybe)
Containers and spray bottles
Car soap/optimum no-rinse (ONR)
Clay bar or Nanoskin clay sponge
All-in-One (HD speed for instance which is sun-friendly!)
Ceramic coating (if offering this service and have the skills to perform it)
The above list is not an exhaustive list of everything you need but just to get you started, as you start your detailing business you will find which products work best and how to perfect your craft with the tools you have.
I always recommend you start with the bare minimum that you can in order to not go into debt. You will have a higher chance of success in the long-run, you will have less stress, and you will be more profitable than your competition!
If you have some of these products already, use what you have at your disposal, you don't need to go out and buy all the latest and greatest products. Start small and slow and build up your business and your products you use.
Structuring your Auto Detailing Business
As a detailer, you want to make sure your business is legally created and setup for your local county/state. You want to have this business entity setup not only for tax purposes, but also for liability protection.
Depending on how you setup your business, you will be protecting yourself, your family, and your assets from potential litigation. I hope and pray that doesn't happen to any of you, but it is a reality.
Check out the article on legally creating your detailing business.
Which Insurance to get for a Detailing Business
When starting out detailing I see some detailers that don't even bother getting insurance, it is still a good idea to get insurance for your business even in the early stages. You don't want to end up damaging someone's car and then you are having to dish out cash from your pocket to get it fixed.
I would recommend getting Liability and Garage Keepers insurance coverage, check out the detailing insurance article for further detail.
Naming your Auto Detailing Business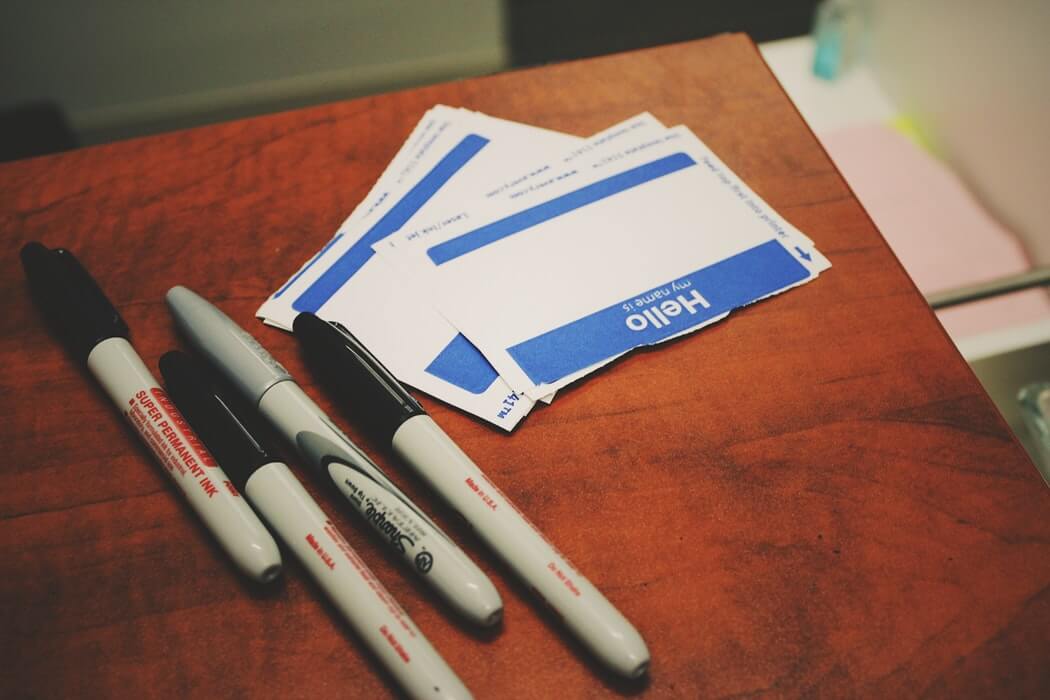 A lot of people hate coming up with clever names for their detailing business. They get stuck on this for weeks or even months! Don't let the name of your business stop you from starting today, if it comes down to it, just use your name or town.
Smith Detailers
Detailers of Baldwinsville
If you are having trouble, check out the article on how to name your detailing business for more tips and hopefully ways to get your mind unblocked on this step.
Getting your Detailing Business Online
A lot of your customers starting out will be your friends and family, you will want to start with them first, as you grow, having an online presence is crucial to bringing in new customers or leads.
The most important thing you need to do it setup your Google My Business page. This will show when people search in Google for  things like "auto detailing near me" or if someone is on Google maps and searches for auto detailing.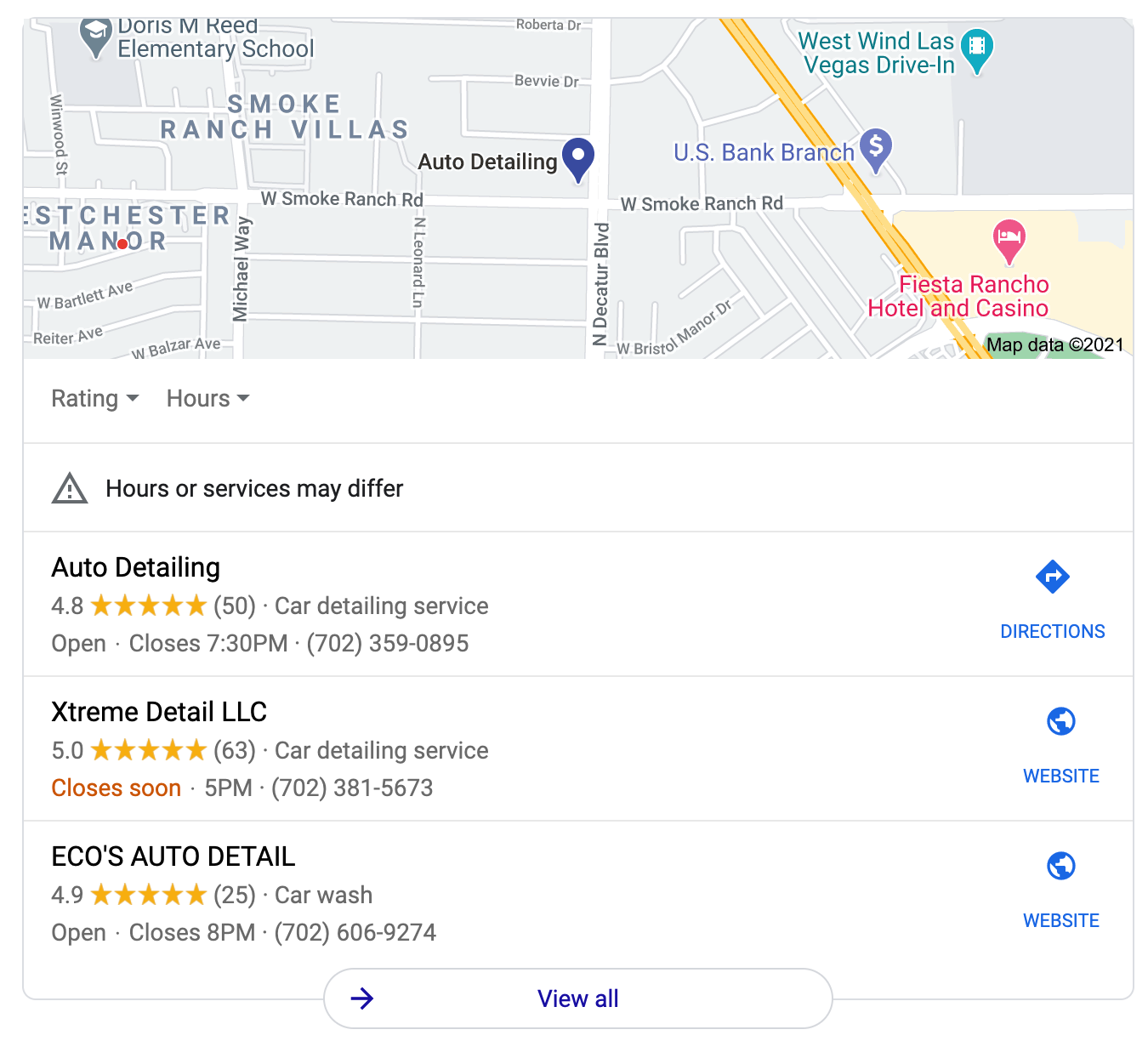 This is the quickest and easiest way to get your business online and found by customers.
Next you will want to setup a Facebook, Yelp, and Nextdoor page for your business. Once you have those you can look into setting up an actual website which will be your online business card with your pricing, testimonials, before/after pictures, contact information, service area, information about you, etc.
Be sure to check out the article which goes into setting up your online presence in more detail on how to do all of this.
Set Up Packages and Pricing
You may have seen how I recommend you setup your packages and pricing already. If you haven't, then definitely check that out. It is essential to setup your packages and pricing so that it is easy for customers to understand and easy for them to see the value you are offering.
Tip: Make sure you put your preferred or more expensive package first on your website and then make it easier to understand the differences between your packages so they can see the loss of service at each level.
Some detailers starting out make it easier by only offering a single package, that way there is no confusion on what the customer is getting. They can then rely on the up-selling opportunities once they begin working on the vehicle if needed.
Make sure you are posting your prices on your website, you don't want to be bothered by people calling you just to ask for pricing. I recommend you use "starting at $XXX" verbiage, that way people know and understand that it will most likely be higher than what the price is listed as and not be shocked or surprised when you give them a higher number.
Marketing your Auto Detailing Business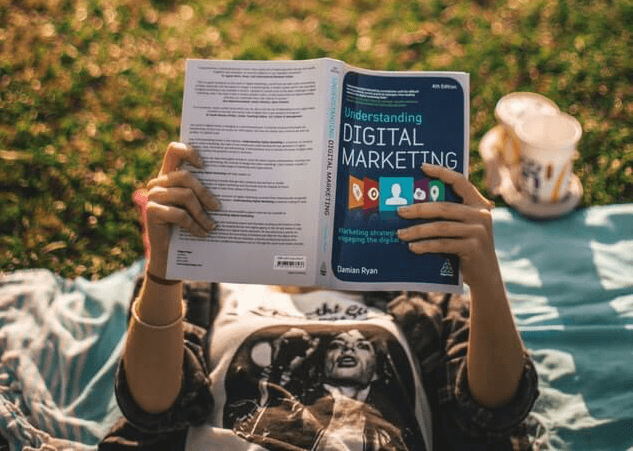 As mentioned above, when you first start your detailing business, you will start with your family, friends and neighbors for your first customers. If you have a ton of friends and family, that might be all you need to keep a consistent income if you can get them on maintenance details.
Maintenance Detail: A customer will pay on a weekly, bi-weekly, monthly, or quarterly basis to get their car detailed. This is considered a maintenance detail because on the first detail for that customer you put in the work to get the car in a good state, so subsequent details are easier and normally quicker.
If you don't have the luxury of a huge personal network of friends and family, you do have access to each of your friends/families personal network. Don't be shy to ask them to like your Facebook page, post on their social network, tell their friends and family that you have this business.
When starting out it is important to have your first customers give you a review online. I normally recommend focusing on Google My Business ratings first. When people are searching on Google, they are normally searching with intent to purchase/shop.
Once you are confident in your detailing skills, it will be easier to sell yourself and your business, don't feel bad if it is tough starting out. For even more marketing tips, check out how to market your detailing business.
Up-selling your Services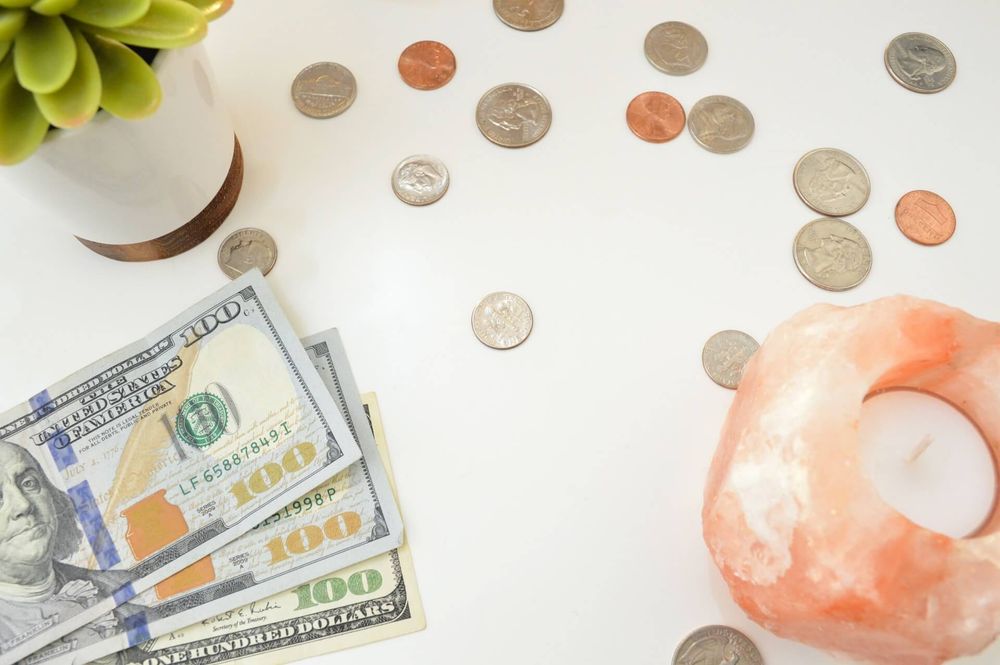 I don't really like the word up-selling, but most people know what that means so that's why I use it in this case. As a detailer, you will see and know things that customers may not even know are possible to do to their car to protect it, restore it, etc.
Some detailers feel like sleazy salespeople when they try to sell additional services. What I find works best is asking questions to your customer, ask them what they wish was better about their cars appearance, what would make their life easier, what issues do they have with the interior, etc.
Once you know what issues or problems they are having, it will be easier to slip your additional services into the conversation.
You: "What issues are you having with your car right now?"‌‌Customer: "Well, recently at night I noticed that I am not able to see as well"‌‌You: "Is it with your bright lights are night or just regular lights?"‌‌Customer: "I notice it more with just regular lights"‌‌You: "Looking at your headlights, they are actually due for a restoration, that will clear up this foggyness you are seeing on the outside of the lights themselves and will produce a clearer light housing. This will definitely improve your nighttime visibility. I can add that on today for you since I am here already working on your interior."
That's a simple example and of course not everyone will bring up nighttime visibility, but take the time to talk to you customer and find out their pain-points and you will be able to solve their problems. They might bring up that their car seems to get dirty relatively quickly, you could talk about proper paint protection and maybe ceramic coatings.
Here are 15+ difference up-selling techniques that you can work into your offerings and conversations with your customers.
Customer Relationship Management Platform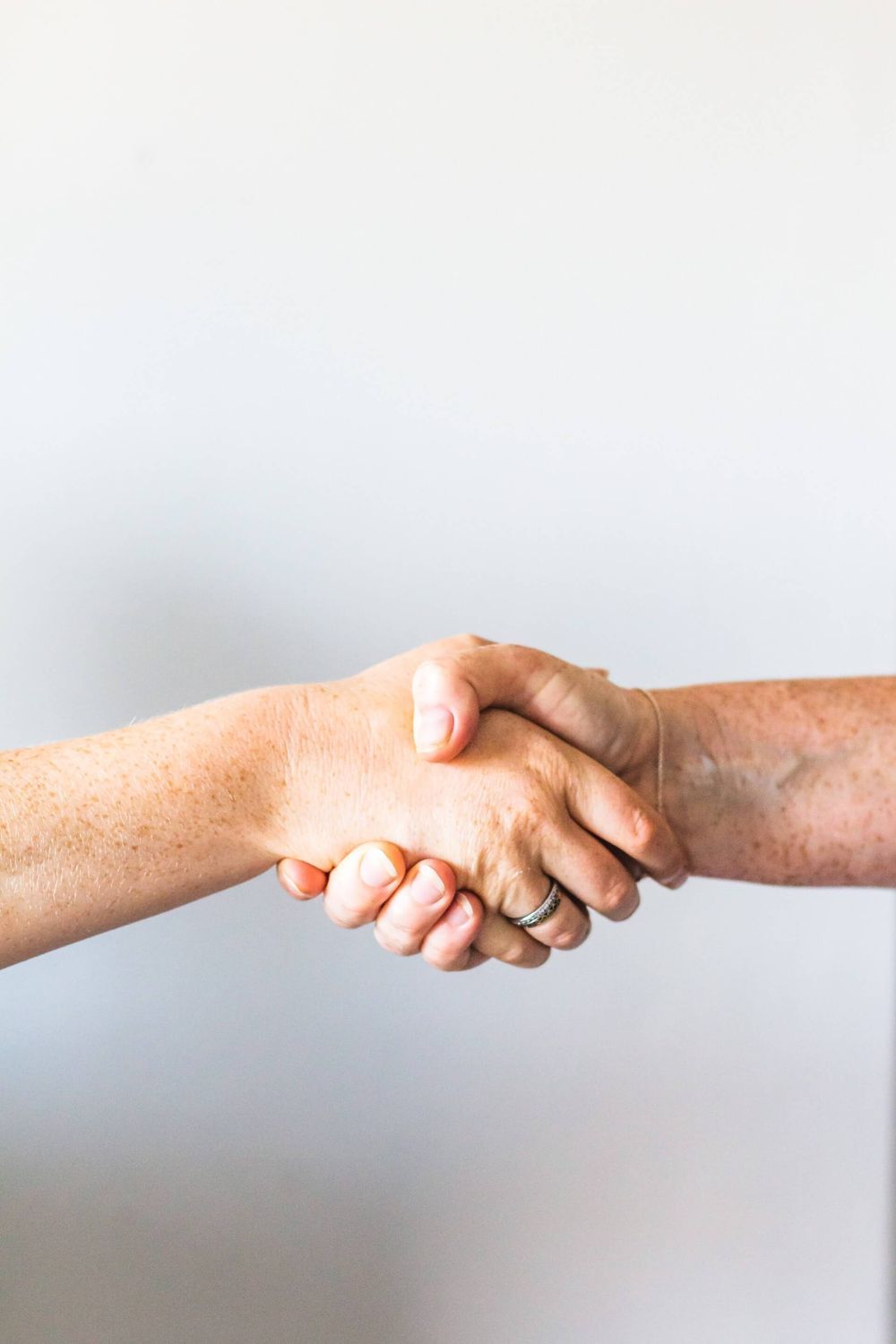 A Customer Relationship Management Platform, commonly known as CRM, will help you to keep track of your customers, your appointments, your schedule, your finances, everything!
When starting out your business, you might not think it is necessary to have a way to manage your customers. If you don't have a system in place to manage your customer experience journey, you are losing out on so many sale opportunities and positive reviews from customers.
If you don't have a Customer Relationship Management Platform in place. this could hurt you in the long run, some detailers keep their business as a side hustle and never go full-time with it. It is still useful to have something like this in place even if you keep your business as a side hustle.
A CRM will make it easier to keep all of your customer data in one place, this will allow you to quickly and easily reach out to past customers about getting a future detail done. If you are slow on new customers, you can reach out to your past customers and let them know that it might be time to get another detail done.
"Hey Sue, this is John at Detailing Of CLT. It has been 6 months since I detailed your red Honda Civic, how's it holding up? When this week would you like to schedule a detail?
A CRM will also allow you to keep a history of each of your customers, that way you will know what they had done last time and be able to refer to your notes from the past details. It also makes it easy and simple view your schedule so you don't forget an appointment and risk a negative review for ghosting a customer.
You are also able to automate your messaging to your customer, with reminders, on the way notices, and followup messaging to ask for a review. If you haven't already, check the article on the benefits of the Housecall Pro CRM which is the one that I recommend for your mobile detailing business.

Housecall Pro also offers the ability to schedule clients for maintenance programs; automatically taking the payment for you each and every month. This is a game changer in customer experience, them not having to think or worry about payment and just getting their car professionally detailed on a consistent basis.
Conclusion
At StartAutoDetailing.com every article is ended with keep serving, learning and growing.
Serving your customers and your community
Learning about detailing and running a business
Growing your skills, business, and profits.
You should have a good handle on what it takes to actually start an auto detailing business now. As you can see, it doesn't take a lot of time or money invested to do so. Auto detailing is actually a relatively cheap business to start, sometimes as little as $500 as we discussed above.
I hope I answered your question on how to start an auto detailing business in 2021 in a way that makes sense and is logical, if you have questions or need more help, sign up for the email newsletter or message on Facebook so I can help!
As always, keep serving, learning and growing!