How Much Does it Cost to Start an Auto Detailing Business
Start an auto detailing business with confidence! Learn about startup costs, equipment, marketing, and more. Discover the keys to success in this comprehensive guide.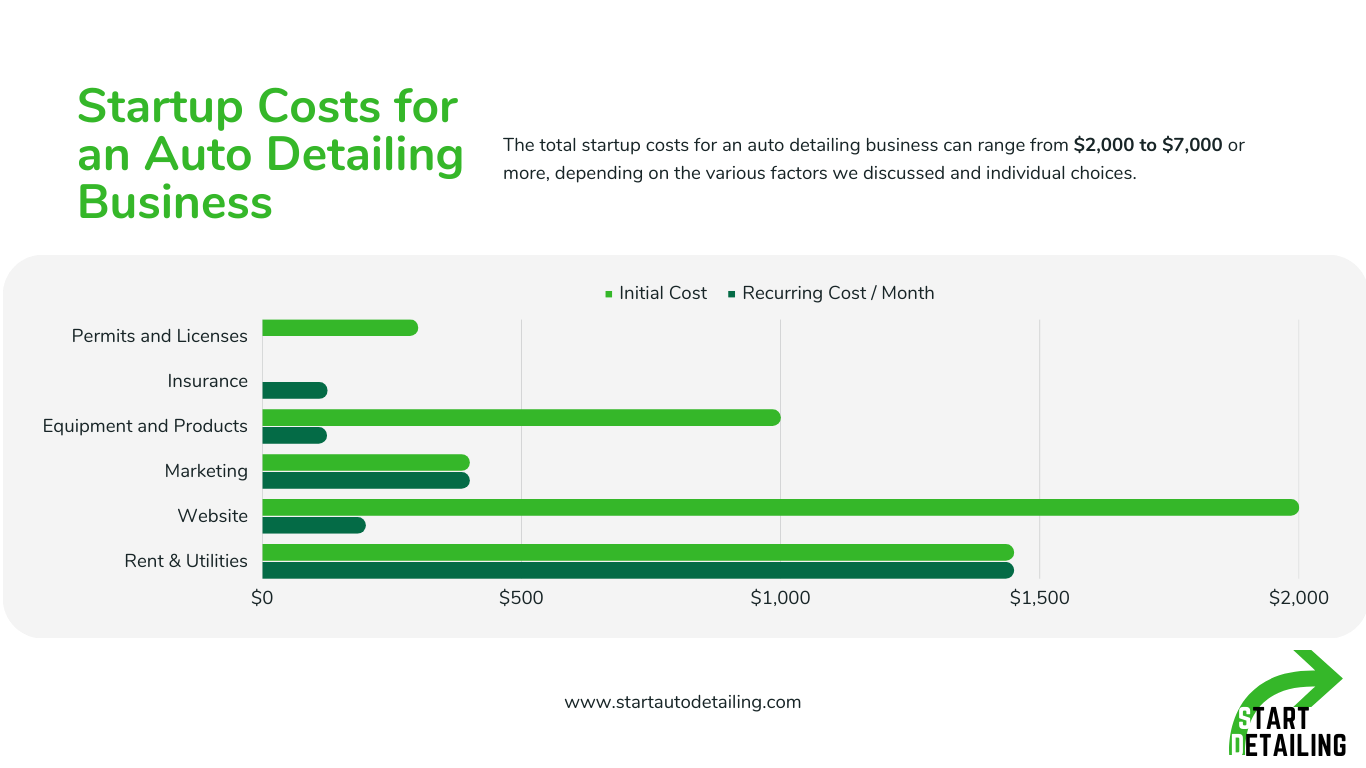 Auto detailing is a great business opportunity for anyone who loves cars and wants to start their own business. However, as with any business, there are startup costs involved in getting it off the ground. Let's take a look at how much it costs to start an auto detailing business, including equipment and supplies, rent and utilities, insurance and liability, licenses and permits, marketing and advertising, and miscellaneous costs.
By understanding these costs, you'll be better equipped to make an informed decision about whether or not this is the right business for you.
Business Planning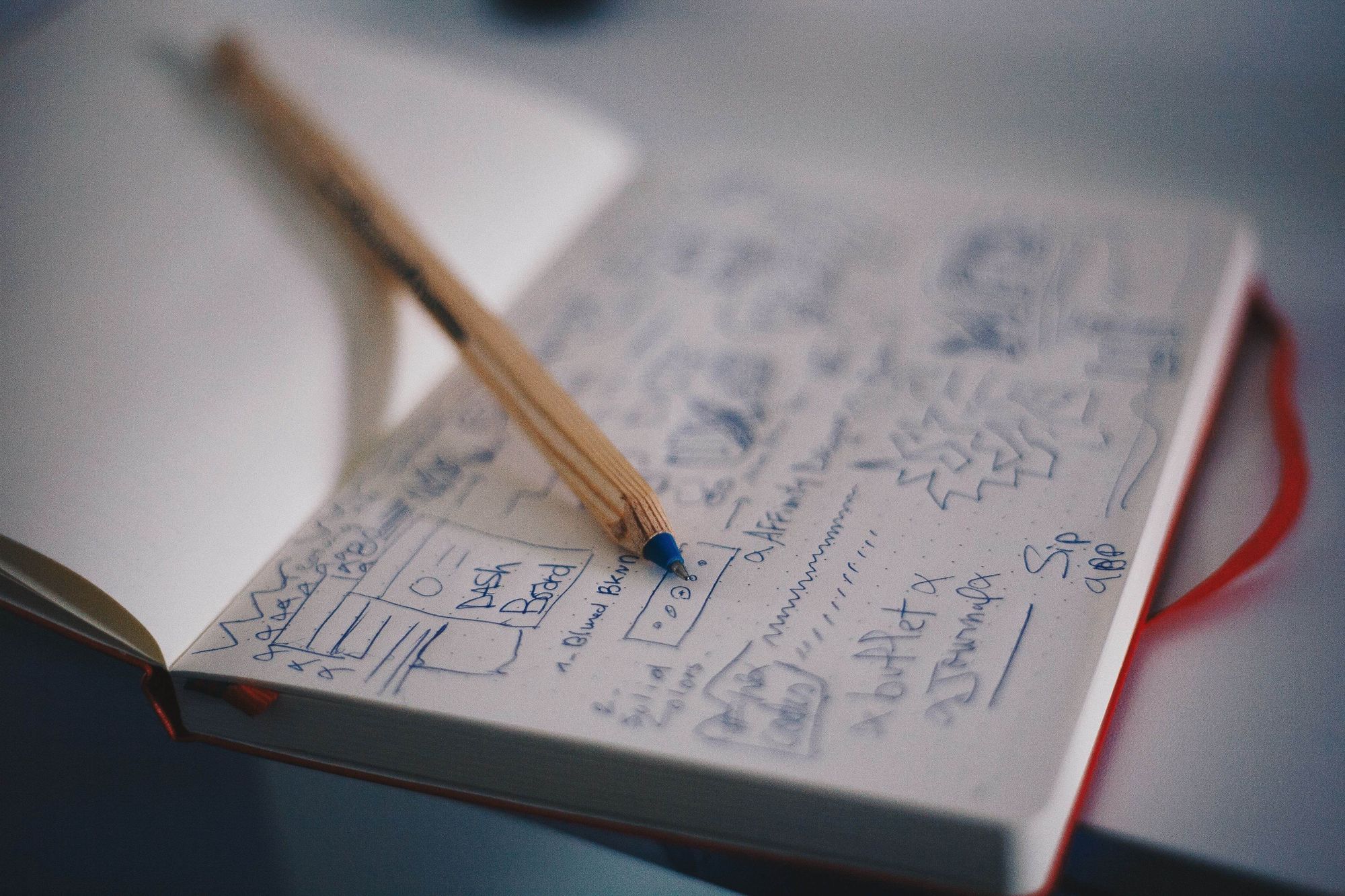 Before you start an auto detailing business, it's essential to create a business plan. A business plan is a document that outlines your business's goals, strategies, and projections. It's important to have a solid business plan in place so that you can make informed decisions about your business. A well-written business plan will help you to secure funding from investors and lenders, and it will also serve as a roadmap for your business.
When creating a business plan for an auto detailing business, there are several key elements that you should include. These include an executive summary, an industry analysis, a target market, sales and marketing strategies, operations, and management and organization.
See more on how to write a business plan for your detailing business here

Equipment and Supplies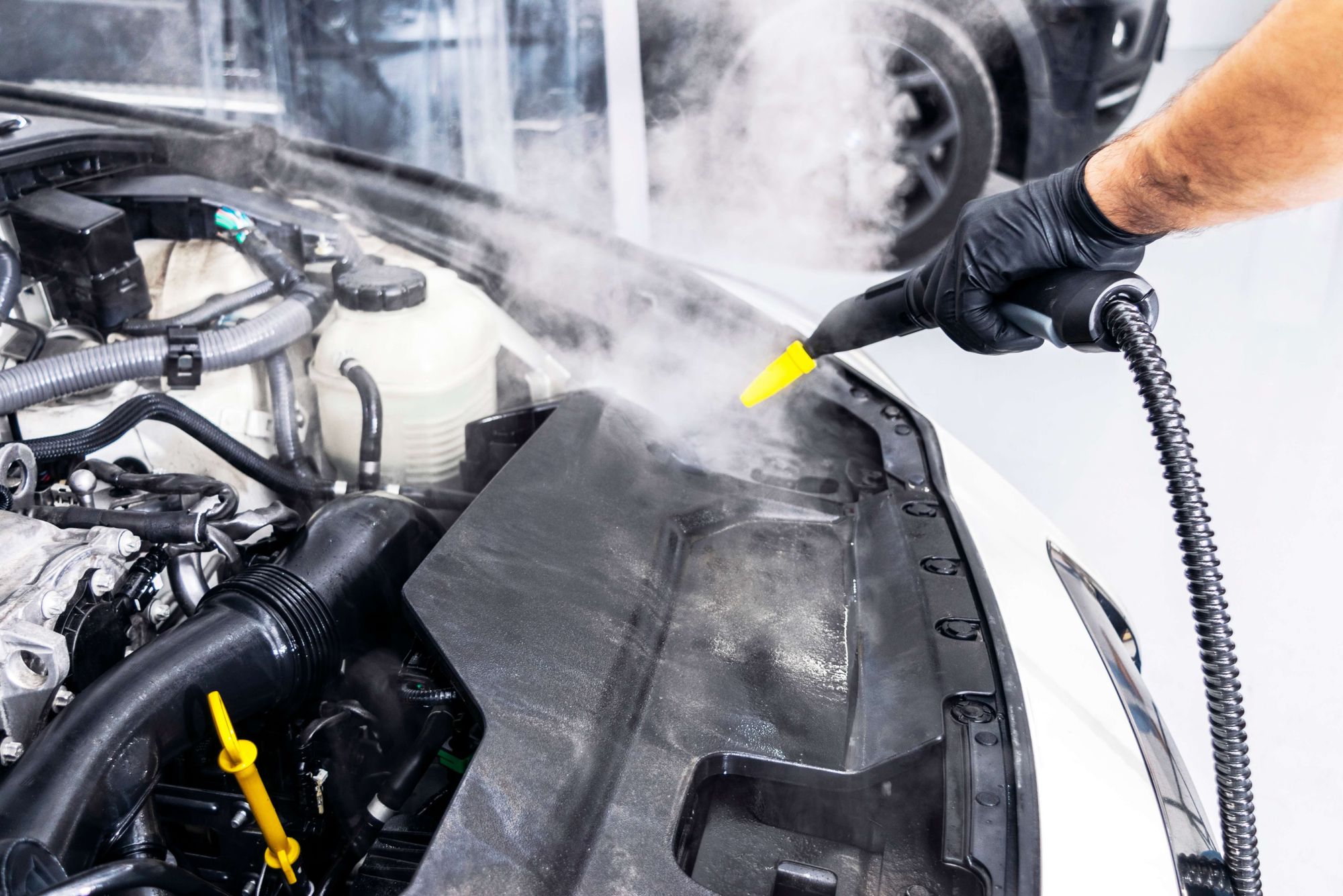 There are a number of equipment and supplies needed for professional auto detailing, and some of these supplies you will need to continue to purchase as you use up the product. The products and tools can vary widely depending on what services you are offering as part of your business.
If you are working primarily on interiors, then your products and equipment will be different if you are focusing on the exterior of the car with paint correction and ceramic coatings. Also if you are detailing planes, RVs or boats, your supply costs will be greater because the amount of product required to detail a larger area.
In general the startup detailing business equipment and supplies cost ranges from $500-$1,500 starting out. As I normally recommend, use your profits to invest in your business to buy more supplies and equipment instead of going into debt.
To save on costs, you can also check out craigslist or marketplace to see if there are detailers in your area who are selling their products/tools.
Check out the starting your detailing business with just $500 to see which products and equipment are recommended.
Rent and Utilities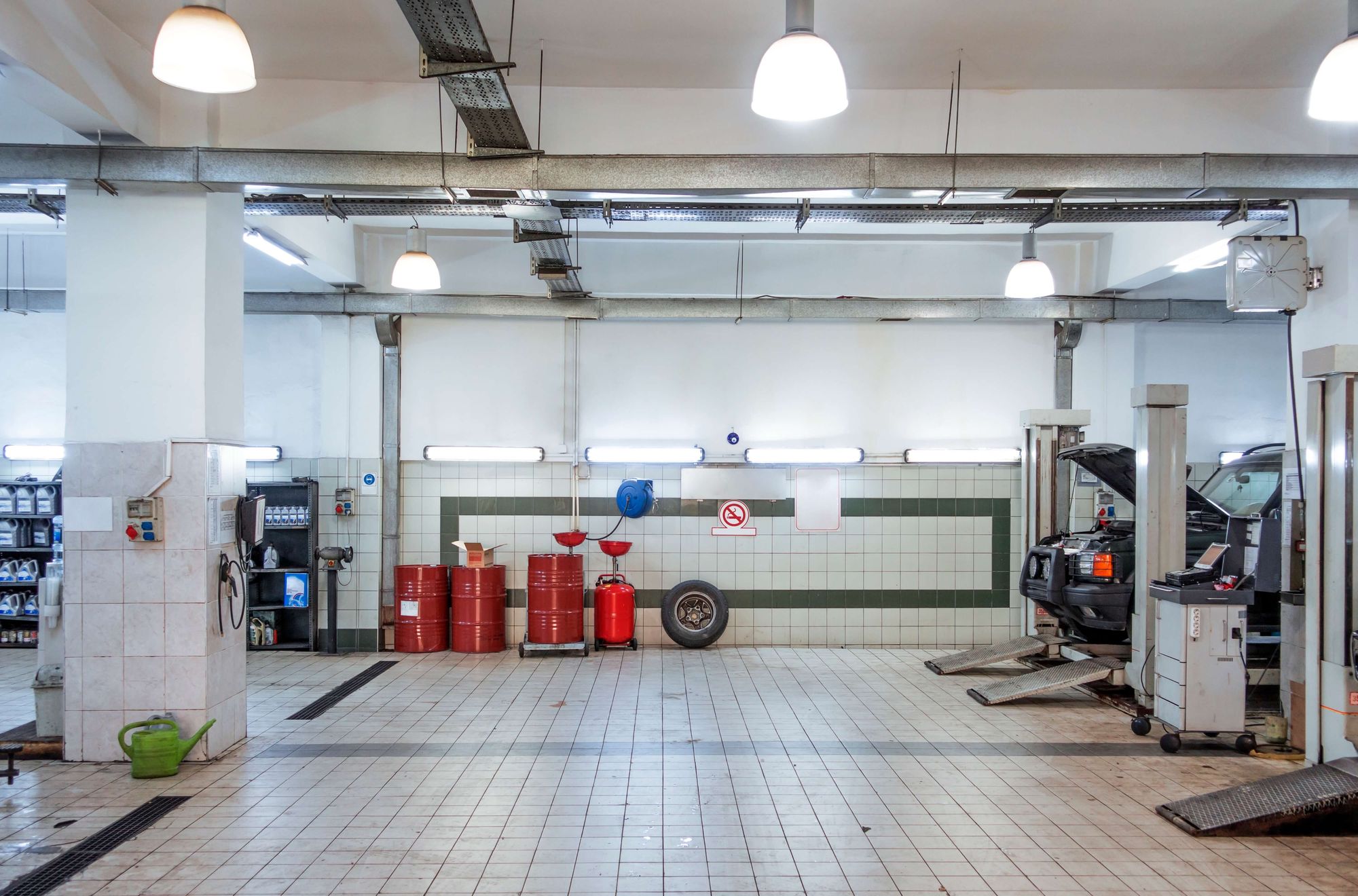 If you are a mobile detailer, you are able to save a lot on rent and utilities, but we will include car / trailer maintenance as part of this section.
You will want to rent out a space big enough for you to grow and have the ability to work on multiple cars at a time. Hopefully you will be able to grow enough to bring on other detailers so keep that in mind when trying to find a space to rent out.
You will spend around $500 - $2,000 a month for rent alone. This normally does not include your utilities like water, internet, power. The costs for these utilities ranges from an extra $100 to $300 a month. If you are using waterless washing techniques then you will have a lower water bill.
If you are mobile, track your car maintenance as well. Normal truck or van maintenance is around $100 a month, plus the gas you will be using, it's best to calculate this yourself based on your area you are servicing and what your gas prices are in your area. In general, budget for around $300 a month for gas.
If you do not have a truck or car to be mobile, this will also need to be budgeted in, we will not include the costs of a vehicle for mobile detailing in the total startup costs as most people have one they can use, I would not recommend buying a new truck / van just for your detailing business, use what you have to keep costs low.
Insurance and Liability
Insurance is a requirement when starting your auto detailing business. You do not want to go without insurance or you can easily end up in a lot of financial trouble if something goes wrong.
We outline the insurance information further here, but plan to pay about $1000 to $2000 per year for detailing insurance.
Licenses and Permits
Most of the time you will not need to buy a license or permit for your detailing location, but there are some out there that require them. Be sure to check your local government or small business page on permits to see what you need.
The costs range from $100 to $500 for detailing licenses and permits.
Marketing and Advertising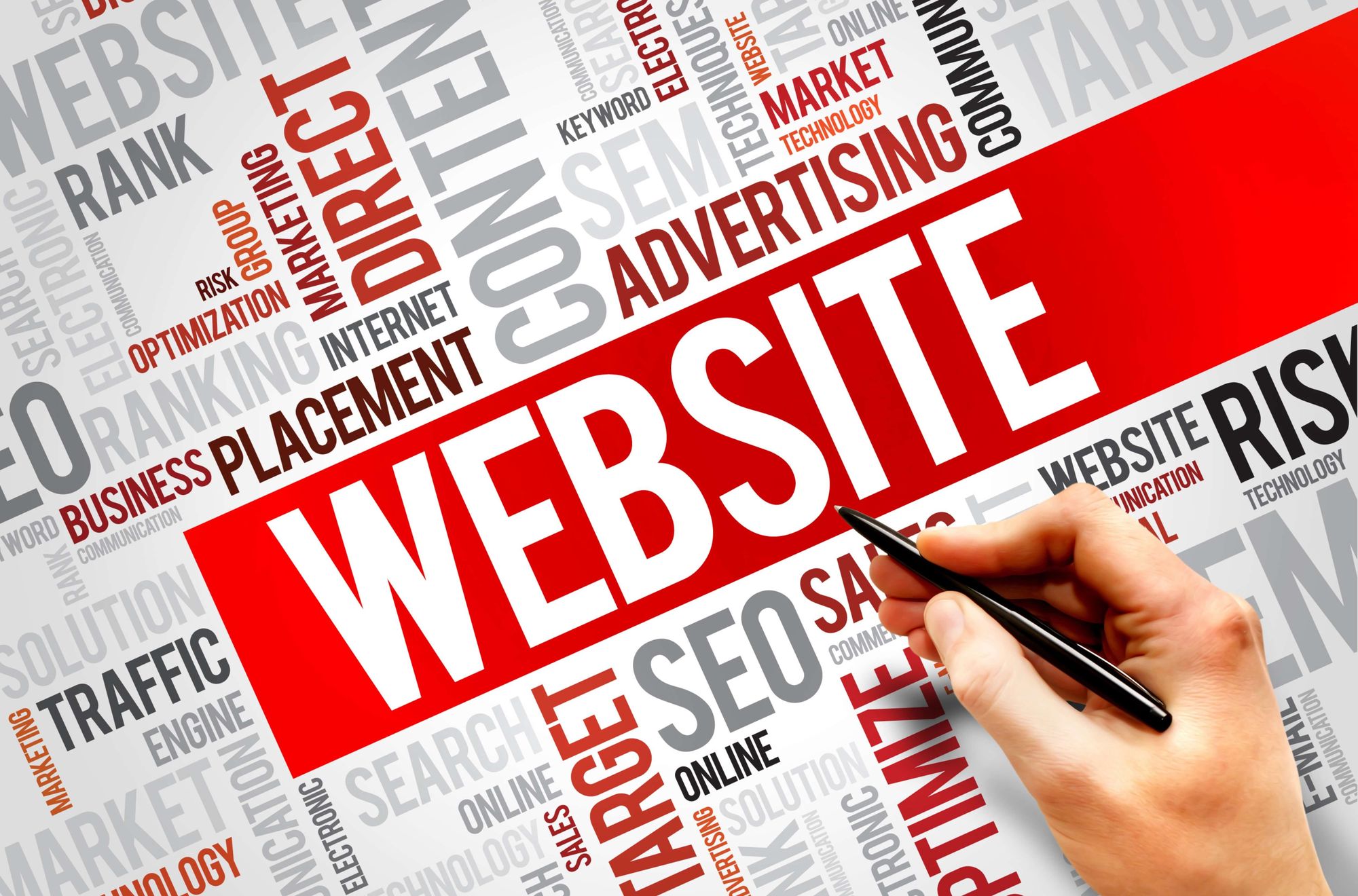 This is the next largest ongoing cost for auto detailing businesses. Marketing and advertising is a constant cost and should not be ignored. Especially for starting out, you need to invest in getting more customers and referalls from existing customers or friends.
If you need marketing ideas or information on online advertising, website development, business cards, local promotions, etc. check out how to market your detailing business.
The costs for marketing and advertising ranges from $100 to $700 a month.
Total Startup Costs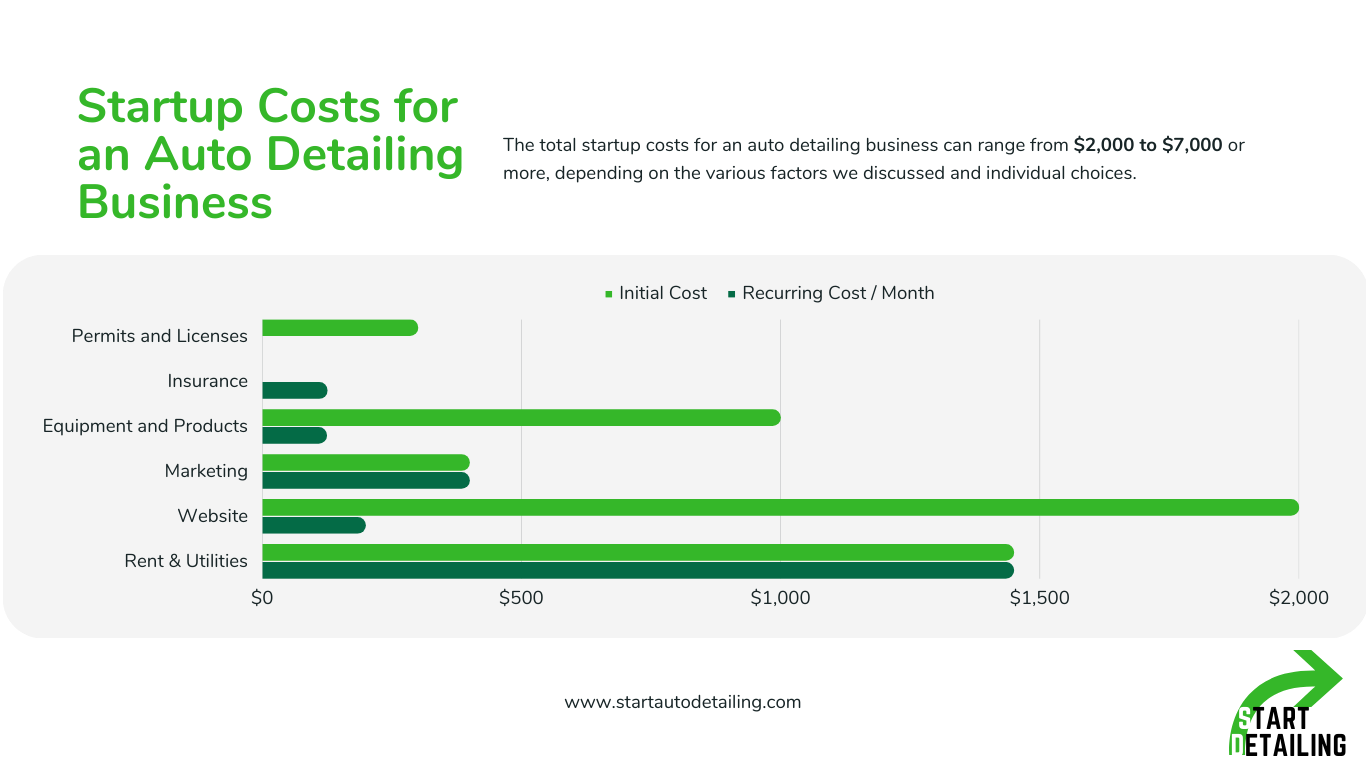 Given all of these costs, it can add up quickly. It does boil down to what you are comfortable spending in each area, especially when it comes to the products, equipment and marketing costs.
The total startup costs for an auto detailing business can range from $2,000 to $7,000 or more, depending on the various factors we discussed and individual choices. This is broken down into initial costs and recurring costs.
Initial Costs:
Permits and Licenses: $100 - $500
Insurance $1,000 - $2,000
Initial Equipment and Products: $500 - $1,500
Website Design / Development: $100 - $4,000
The recurring costs:
Rent and Utilities: $600 - $2,300 / month
Marketing and Advertising: $100 - $700 / month
Supplies and Consumables: $50 - $200 / month
The startup costs might seem high for some, but keep in mind the amount of money you will be able to make per month can also range from $2,000 to $10,000 a month!
Conclusion
Starting an auto detailing business can be a rewarding venture for car enthusiasts who dream of owning their own business. We've covered a lot of ground in this article, so let's summarize the key takeaways:
Create a solid business plan: A well-crafted business plan is essential for success. It will guide your decisions and serve as a roadmap for your business.
Budget wisely: Be mindful of your startup costs and recurring expenses. Carefully allocate funds to equipment, supplies, rent, utilities, insurance, permits, and marketing.
Invest in quality equipment and supplies: While starting with a limited budget is possible, investing in reliable equipment and quality supplies will ensure better results and a longer durability on your tools.
Consider different marketing strategies: Effective marketing and advertising are crucial for attracting customers. Utilize both online and offline channels to promote your business and generate referrals.
Stay informed about licenses and permits: Research the specific licenses and permits required for your area. Complying with legal requirements will protect your business and give customers confidence using you.
Now that you have a clear understanding of the costs involved, it's time to take action on your dream of starting an auto detailing business. With proper planning, determination, and a focus on providing exceptional service, you can succeed in this industry.
To further support your journey, we recommend exploring additional resources on starting an auto detailing business. We have a lot of detailed guides, industry insights, and helpful tips from experienced professionals.
Remember, the startup costs may seem significant, but the potential earnings can be substantial. With dedication and a commitment to this industry, you can turn your passion for auto detailing into a thriving business. So take that first step towards your entrepreneurial journey!
As always, keep serving, keep learning and keep growing!